1951
Tom Vandergriff becomes mayor.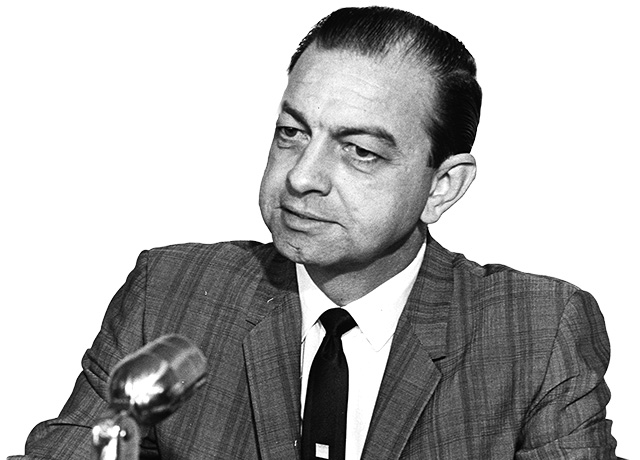 ---
The city's famous mineral water well on Main and Center is capped permanently under the intersection's pavement due to increased traffic.
1952
Sister city relationship established with Bad Königshofen, Germany.
---
Grace Lutheran church opens.
---
Texas & Pacific Railroad Depot is demolished.
---
James Daniel Cooper's historical house is donated to the city and relocated to Meadowbrook Park, serving as a library.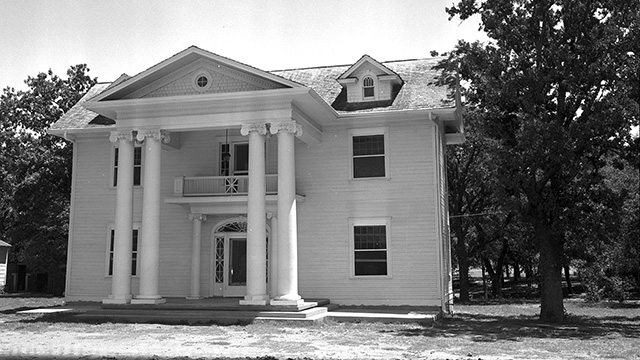 1953
The city takes over the public library from Tarrant County.
1954
General Motors Corporation plant opens.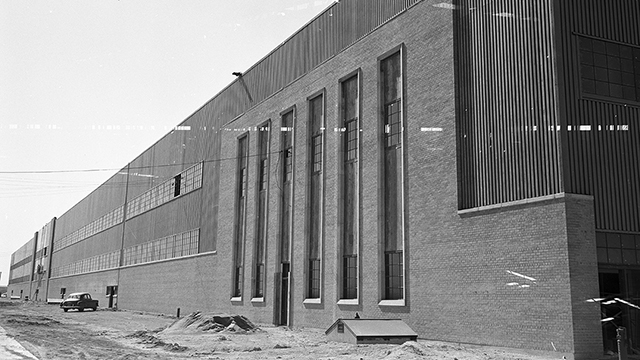 Southeast corner of the sprawling new $33,000,000 General Motors Corporation plant at Arlington.
---
Berry Elementary School opens.
1955
J.C. Penney and Sears chain stores in business.
1956
American Can Company plant opens.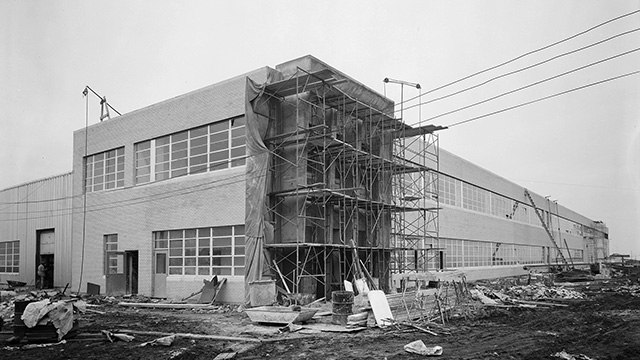 Finishing construction on the American Can Company Arlington plant
---
Arlington Baptist College opens on the property of the old speakeasy Top O' Hill Terrace.
---
Arlington High School moves to its second location on Park Row and Cooper.
---
Old Arlington High School building becomes Ousley Jr. High
---
Thornton Elementary School opens.
1957
Dallas-Fort Worth Turnpike opens.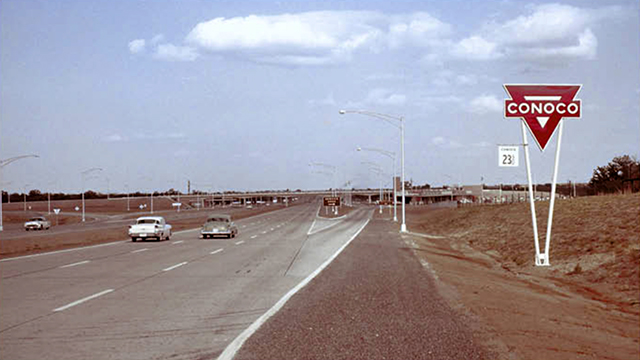 Dallas-Fort Worth Turnpike exit to the Conoco service plaza which was located at present-day Ballpark Way
1958
Arlington Downs is completely destroyed by commercial developers.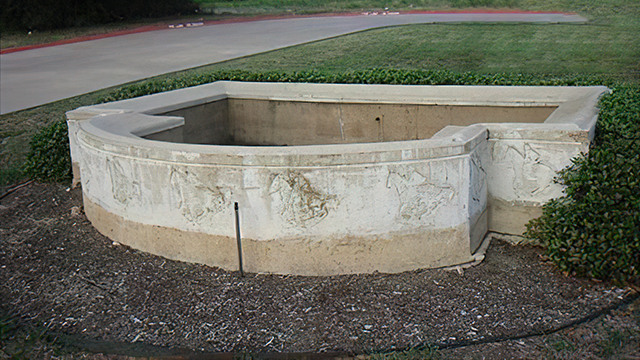 Horse watering trough - today's only remaining on-site vestige of Arlington Downs
---
Vandergriff family donates land that becomes Arlington Memorial Hospital.
1959
The first candidates for a four-year bachelor's degree enroll at Arlington State College.
1960
Population: 44,775.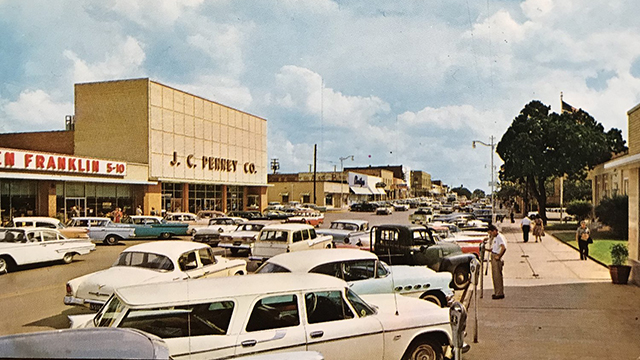 Downtown Arlington - 1960
1961
Six Arlington High School girls riding in a car plunge off the embankment of a bridge on the old Arlington-Bedford Road, tragically killing three (the bridge had been intentionally burned down by high school boys on a previous night).
---
City Hall opens.
---
Six Flags Over Texas opens.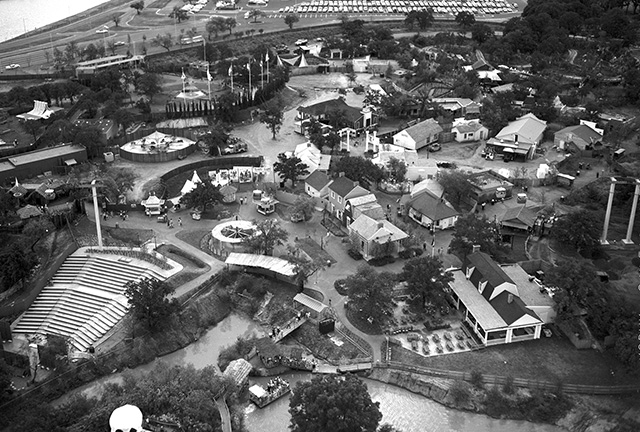 Aerial view of Six Flags Over Texas
1962
Public Library opens.
---
Cooper House is leased to the Arlington Woman's Club who will refurbish and maintain the home.
1963
Silver Star Carousel debuts at Six Flags Over Texas, originally crafted in 1920s Philadelphia.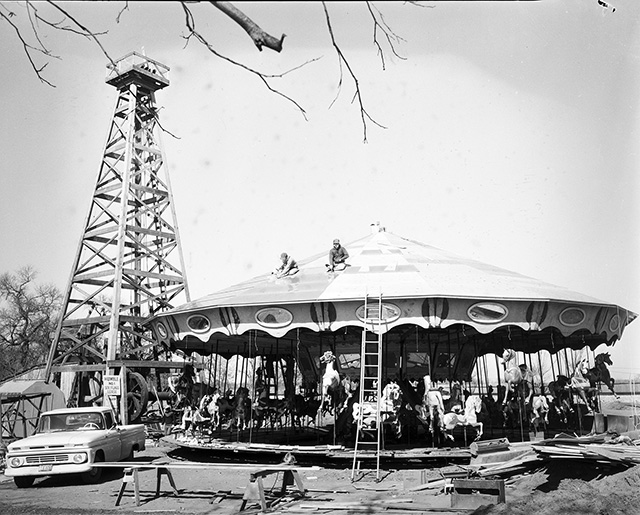 Carousel and carpenters with oil rig in background, Six Flags Over Texas
---
Sam Houston High School opens.
1964
Arlington Municipal Airport opens.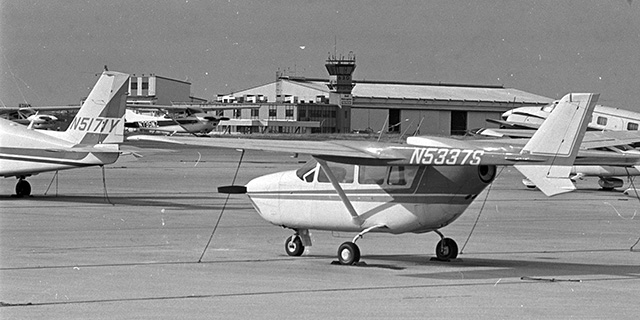 Arlington Municipal Airport
---
Speelunker Cave opens as Six Flags Over Texas's first dark ride.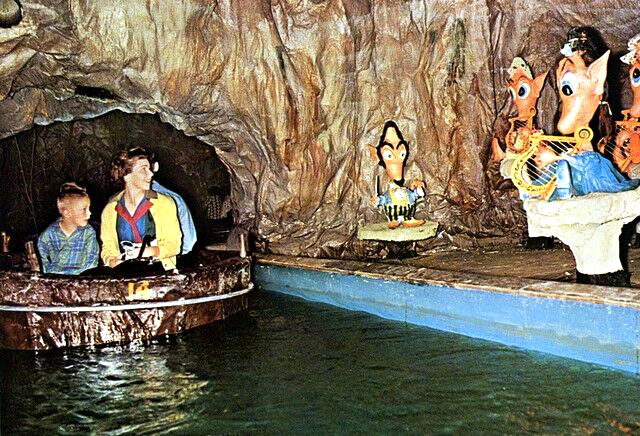 Speelunker Cave - Six Flags Over Texas
---
Meadowbrook Recreation Center is built on the northern edge of Meadowbrook Park.
1965
Turnpike Stadium opens.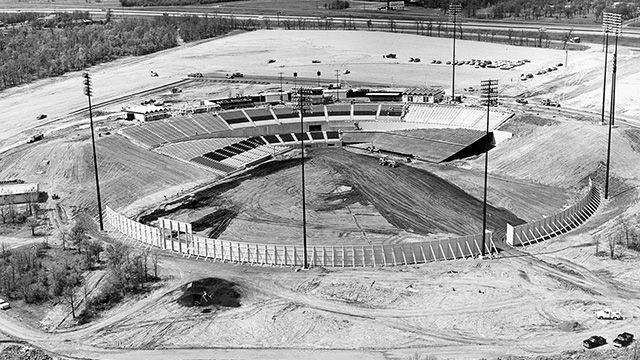 Newly built Turnpike Stadium
---
Dottie Lynn and Church Women United throw the first Annual 4 July parade.
---
Vandergriff Chapel is built.
---
Cooper House is designated as a Texas Historical Landmark.
1966
Park Plaza Cinema opens.
---
Runaway Mine Train coaster is built at Six Flags Over Texas.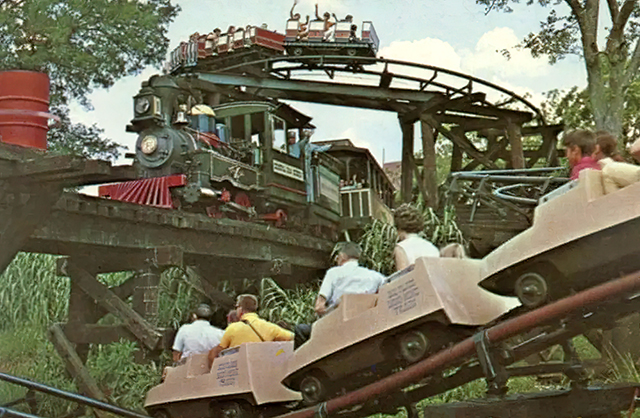 Postcard description: At top is the Runaway Mine Train which annually carries more than 2½ million riders. At center an authentic 1898 steam engine carries passengers over a narrow gauge track which encircles the huge theme park. And, in the foreground is the SIX FLAGS Mini Mine Train, designed for the younger set.
---
Thannisch-Vandergriff Building closes as a car dealership after 38 years.
1967
Arlington State College becomes the University of Texas at Arlington.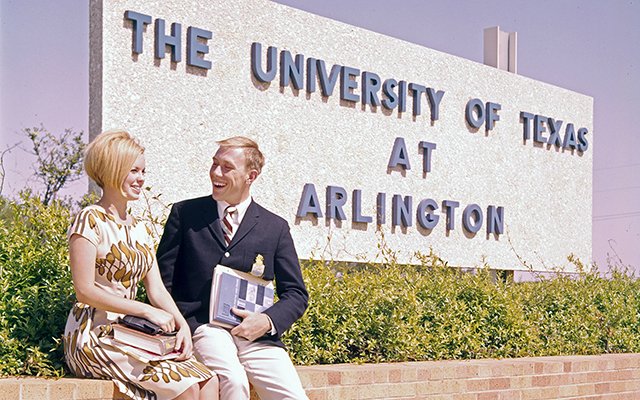 Cindi Coulson, Miss UTA, and Robert Hale, Johnny Reb, ca. 1967-1968
1968
AISD sells the old Arlington High School/Ousley Jr. High building to UTA, and the School of Social Work opens.
1970
Forum 303 Mall and Six Flags Mall open.
---
Arlington Genealogical Society formed.
---
Lamar High School opens.
---
Population: 90,643.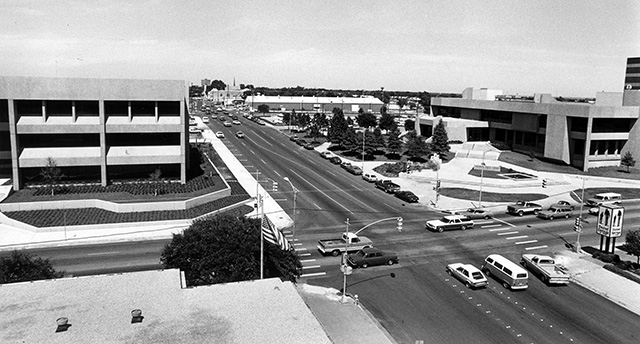 Abram and Center streets, air view
1972
Texas Rangers baseball team based in city.
---
Seven Seas Marine Life Park opens.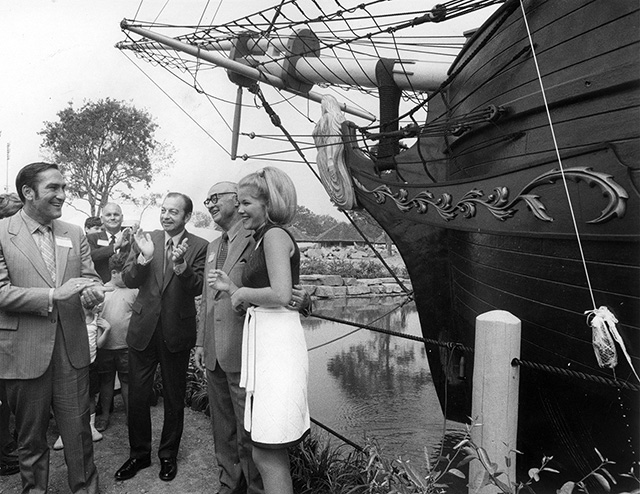 Group including Arlington Mayor Tom Vandergriff christens Seven Seas pirate ship The Bona Venture
1973
The Central Library moves to its first Abram Street location.
---
Theatre Arlington opens.
---
Bowie High School opens.
1974
Dallas/Fort Worth Regional Airport opens.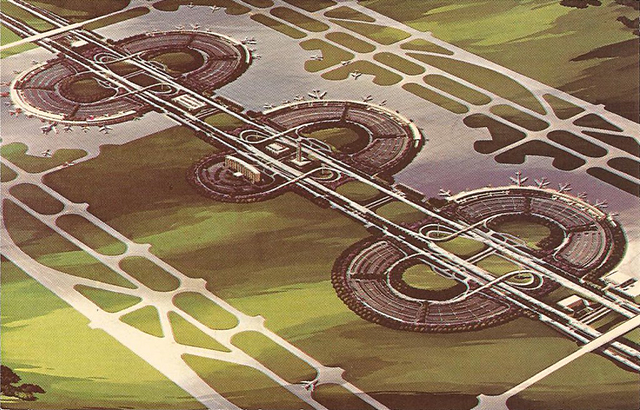 Postcard depiction of Dallas/Fort Worth Regional Airport
---
Cheryl Calloway is found stabbed to death in the parking lot of Forum 303 Mall, one of Arlington's more infamous cold cases.