1977
S.J. Stovall becomes mayor of Arlington, forming the organization Leadership Arlington during his term.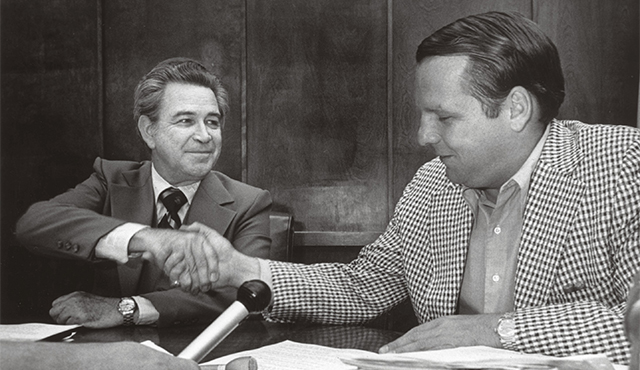 Mayor Stovall, left, with Brad Corbett, owner of the Texas Rangers; shaking hands on the stadium expansion agreement, August 17, 1977
1979
The Oakridge School opens.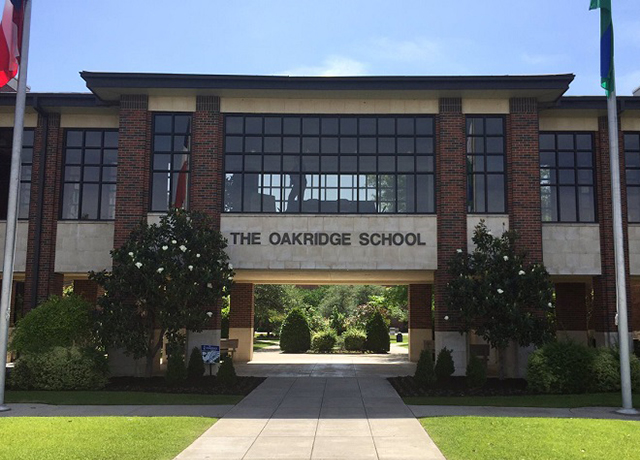 1980
University of Texas at Arlington's Maverick Stadium opens.
---
Fielder Museum opens.
---
Judge Roy Scream opens as the first wooden rollercoaster at Six Flags Over Texas.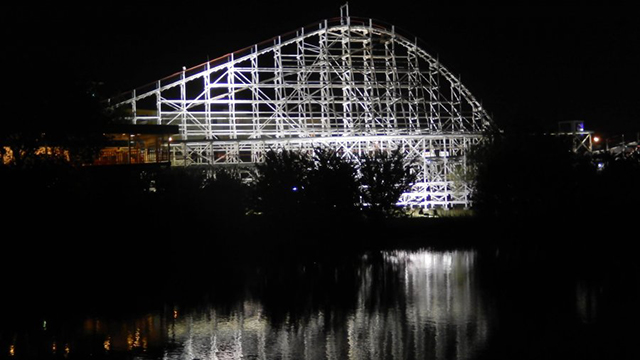 ---
Population: 160,113.
1981
Texas Historical Marker is installed and dedicated at Berachah Child Institute.
---
Metal band Pantera is formed by Arlington teenagers Vinnie Abbott, Darrell Abbott, Terry Glaze, Tommy Bradford, and Donnie Hart.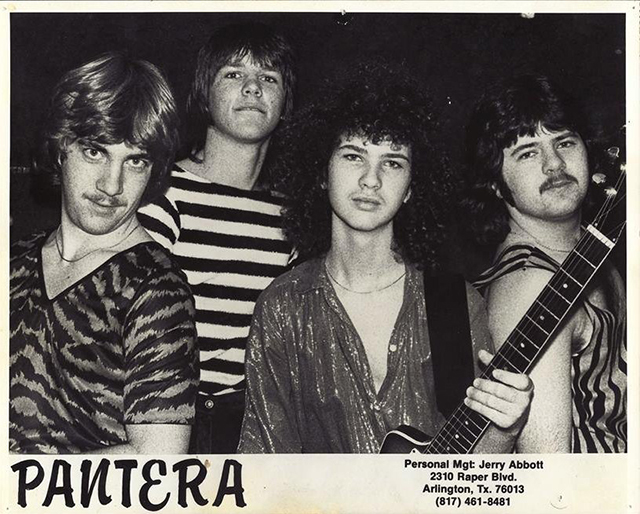 1982
Martin High School opens.
---
Texas Commerce Bank (later Chase Bank Tower) becomes the tallest building in the city.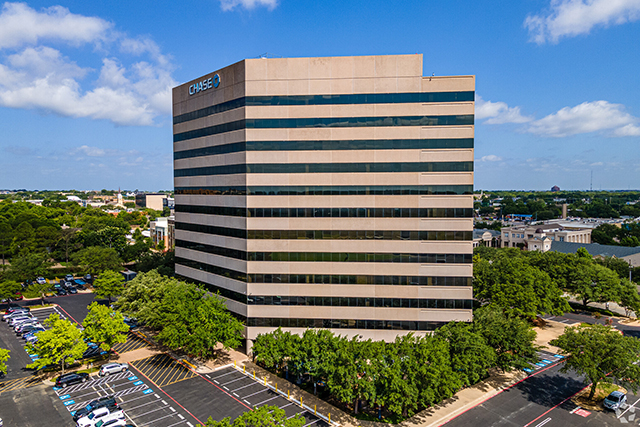 1983
Harold E. Patterson becomes mayor.
---
Bowie High School closes its original building on Arbrook Drive and becomes Workman Junior High School as a result.
1985
Silver Star Carousel is removed from Six Flags Over Texas for a major restoration.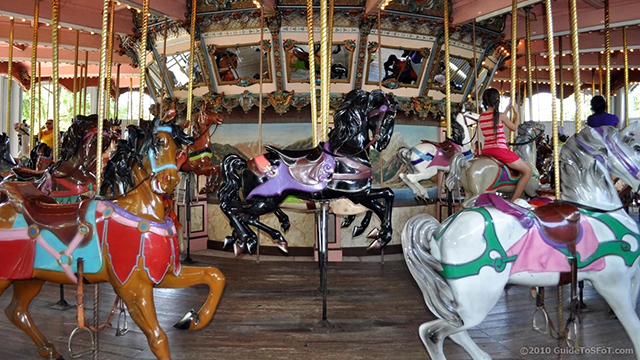 1987
Richard Greene becomes mayor, increasing funding for police and fire departments, developed plans for a new Texas Rangers ballpark, and led road construction programs.
1988
River Legacy Foundation, a nonprofit 501 (c)(3), is formed as a public/private partnership with City of Arlington Parks and Recreation Department.
---
Silver Star Carousel opens back up at Six Flags Over Texas's park gate plaza, where it still operates.
---
The Parks at Arlington Mall opens.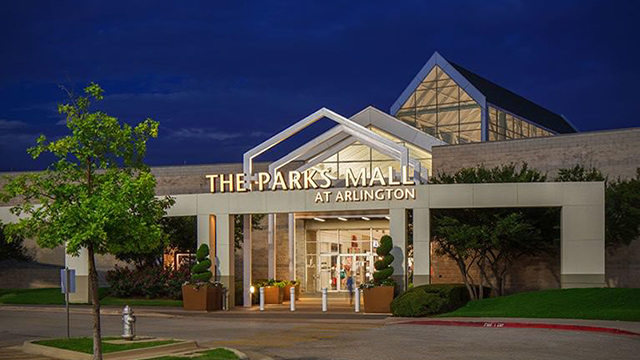 1989
Mount Olive Baptist Church is rebuilt at 402 N. West St.
1990
Phase 1 of River Legacy Park opens, providing 376 acres of wooded multi-use park. Over the years River Legacy Park has grown to its current size of 1,300 acres on both sides of the Trinity River.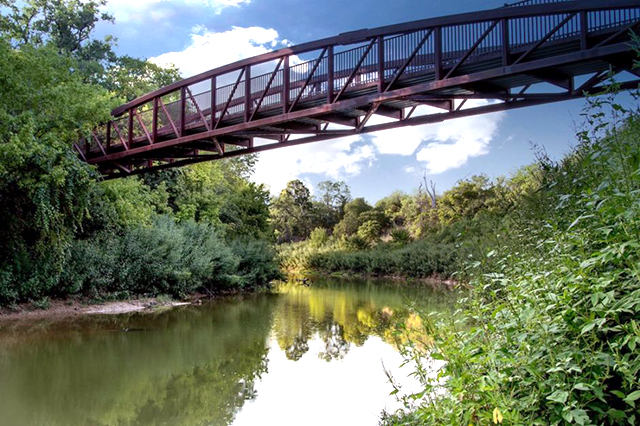 ---
Texas Giant opens at Six Flags over Texas, the tallest wooden rollercoaster in the world at the time.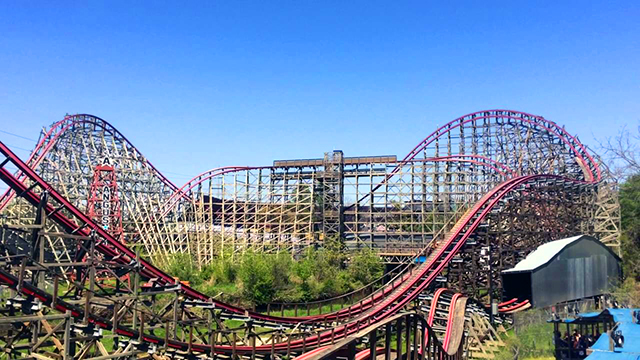 ---
Elzie Odom becomes the first African-American elected to the Arlington City Council.
---
Population: 261,721.
1991
Tom J. Vandergriff is induced into the Texas Rangers Baseball Hall of Fame.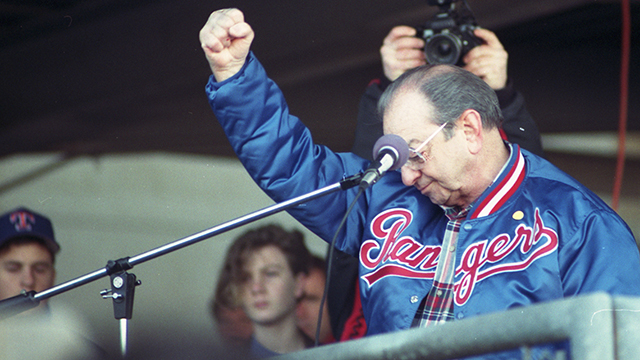 ---
S.J. Stovall Park Park opens at 2800 West Sublett Road.
---
Bowie High School reopens at its current building on Highbank Drive.
1992
Speelunker Cave at Six Flags Over Texas is replaced by dark ride Yosemite Sam & the Gold River adventure based on the Looney Tunes characters.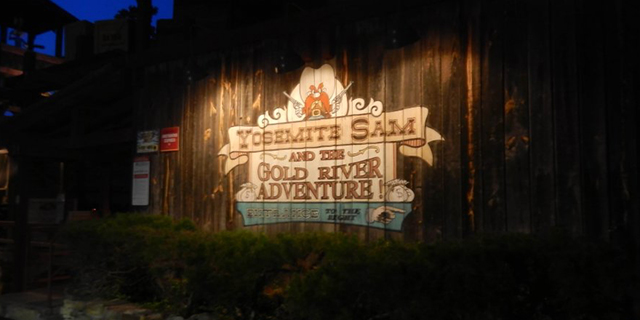 ---
The Witness Tree, an old post oak on the old Bardin Farm that grew to be 60 feet tall, is uprooted by K-Mart, transplanted, and later dies.
1993
The commercial tree preservation ordinance is adopted by City Hall following outcry over the Witness Tree's uprooting.
---
Voters authorize the formation of single-member districts.
1994
The Ballpark in Arlington opens.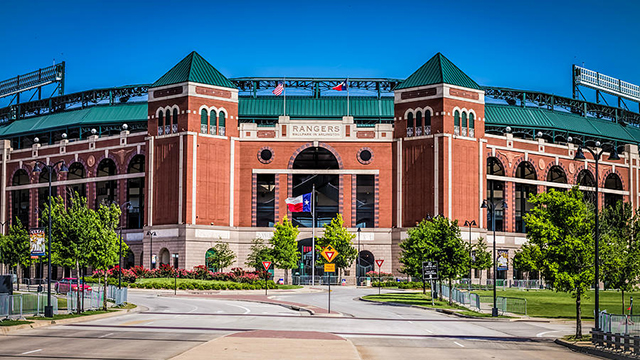 ---
Richard Greene Linear Park opens in honor of the mayor.
---
Arlington Central Library is renamed George W. Hawkes Central Library after prominent newspaper publisher George W. Hawkes.
---
Johnnie High's Country Music Revue moves into the old Arlington Theater (Music Hall).
---
The Arlington Museum of Art opens in the old JC Penney building on Main Street.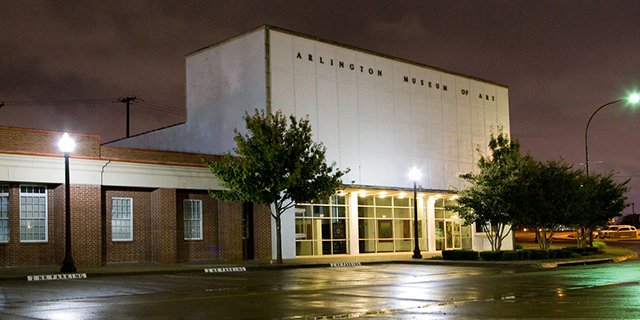 1995
The University of Texas at Arlington celebrates its 100 year anniversary.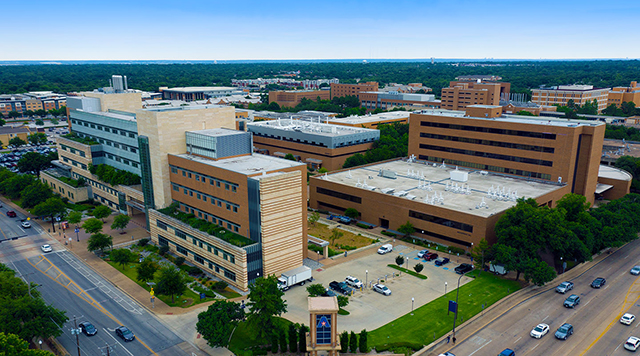 ---
Downtown Arlington, Inc. is formed.
1996
Arlington Morning News begins publication.
---
City website goes online.
---
Tarrant County College Southeast Campus opens.
---
River Legacy Living Science Center opens to the public.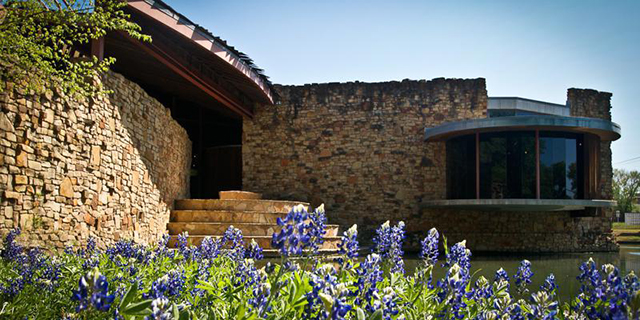 ---
Amber Hagerman is abducted and killed after riding her bike on Abram Street, and the Amber Alert is established and named after her.
1997
Elzie Odom becomes Arlington's first African-American mayor, focusing on expanding education as well as theater and arts in downtown.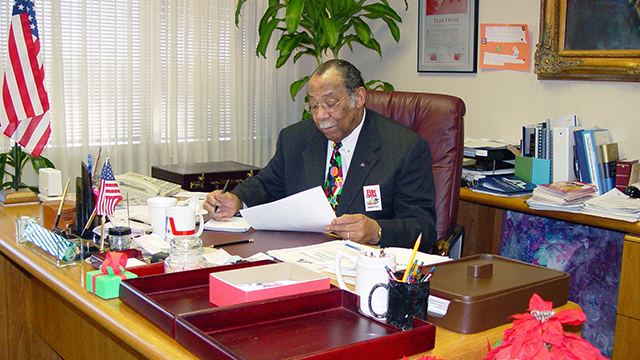 ---
Texas Health Resources nonprofit established.
---
A section of turf located behind Center Field at the Ballpark in Arlington is named Greene's Hill for the mayor's contributions to the Texas Rangers baseball club.
1998
Historic Cooper House is destroyed in an accidental fire on Halloween night.
1999
Elzie Odom Athletic Center opens at 1601 N.E. Green Oaks Boulevard.

2000
Old Town Historic District opens.
---
Population: 332,969.