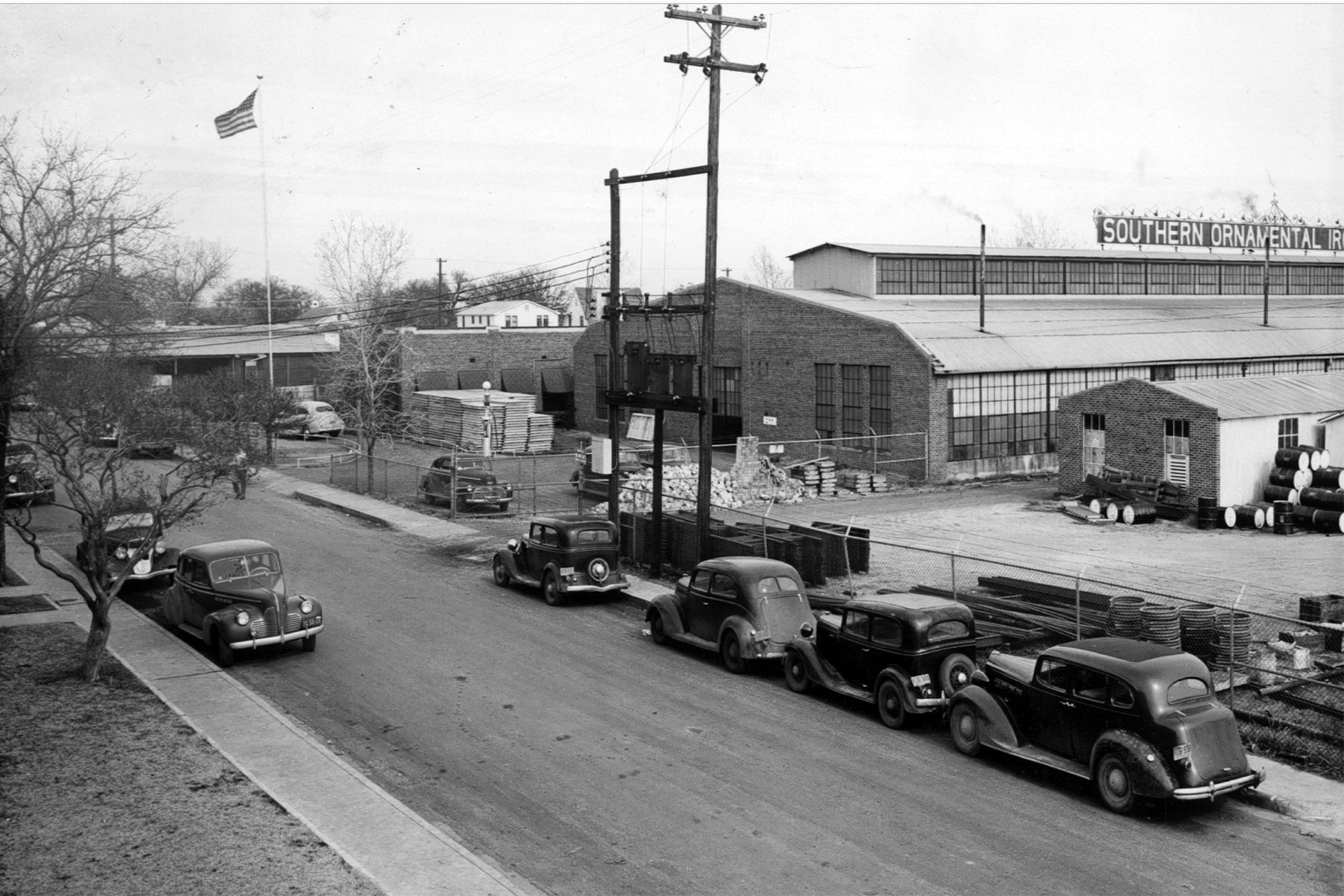 Southern Ornamental Iron Works - 1944
Helping the War Effort - Southern Ornamental Iron Works
This article is adapted from Arlington in WWII by Beverly Reynolds
Southern Ornamental Iron Works was founded about 1913 in Dallas by Frank Austin. Austin bought land in Arlington and built a new plant for Southern Ornamental; the plant was located north of the railroad on the east side of North Cooper Street. It merged with Southern Manufacturing in 1928 and produced all kinds of ornamental work such as stairs, railings, etc. Jack Lowry was the first person employed at the Arlington location. Lowry oversaw the paint department and later on supervised shipping. Ollie Schrickel served as Chief Draftsman. In 1930, Tom Deering was hired as Plant Superintendent. Deering brought in the following employees from Decatur, Alabama: E.G. Maner, Mac Arnold, J.H. Blackwell, and the Reids. In 1941, after Pearl Harbor, Deering revamped the plant for the production of war materials, and the plant switched from the manufacture of civilian products to the manufacture of component parts of prefabricated bridges called Bailey Bridges. Bailey bridges, sometimes mounted on pontoons, could be quickly thrown across rivers by Army engineers. According to a June 1, 1945, article in The Arlington Journal, these bridges were capable of transporting large numbers of troops, vehicles, and equipment across rivers. Chester A. Farris, Post Commander of the American Legion, wrote that these bridges played a direct part in getting U.S. Forces quickly across the Rhine River during the final assault on Germany. The success of the Bailey bridge was due to the simplicity of the fabrication and assembly of its modular components, combined with the ability to erect and deploy sections with a minimum of assistance from heavy equipment.
The plant also provided warehouse facilities for the Army. The Arlington Downs Racetrack had been closed before the war, but the building still stood. The empty spaces below the grandstands were used for storing Army vehicles and equipment.
After the war ended, in the late 1940s, the name of the company was changed to Southern Industrial Steel, and it manufactured steel products for use at home and abroad. The plant had contracts in twenty-eight states and furnished steel for the construction of sugar mills in Cuba. Some of the important contracts included all the steel for both the Honolulu International Airport and the Los Angeles International Airport (LAX), as well as steel contracts for the island of Guam.
The plant was sold in 1982, and closed in 1985. Before the plant closed, Doland Maner, son of early employee E. G. Maner, had filled, with the exception of accountant, every position from janitor to vice-president, to president, to Chairman of the Board. Doland is a member of the Arlington Historical Society and a former Board Member. Retired, he still lives in Arlington.