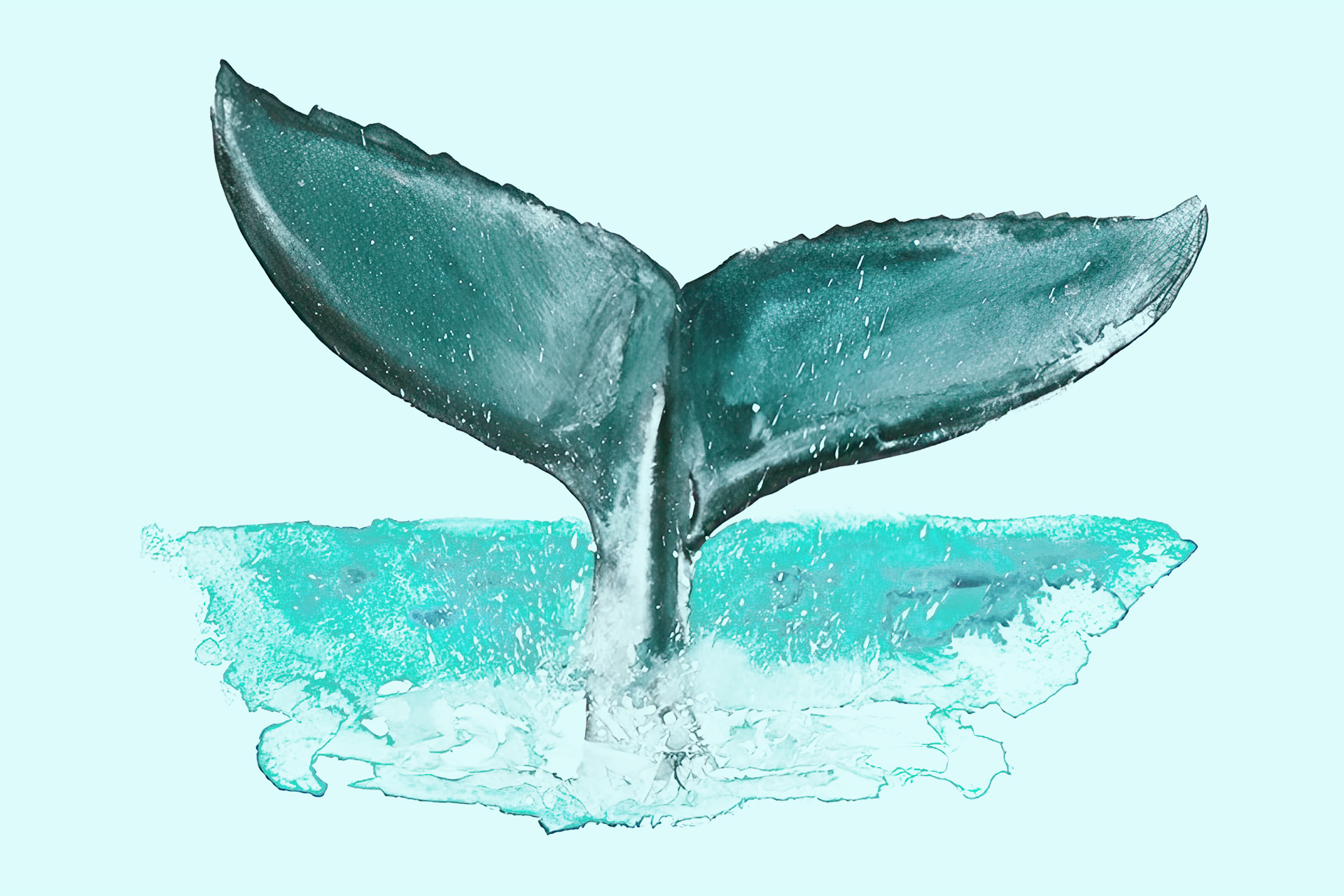 The Saga of Seven Seas - Part 1
So many summers have come and gone. Half of a century has ensued, blotting out all but a few nebulous, fragmented memories: a stifling Texas sun beating down on pools of rippling blue water… whales and dolphins dancing over their holding tanks as if celebrating life in the Oceans of Eden… it was all so, so long ago. Much of it now seems uncertain. Yet, with utmost certainty, I was excited about the trip.
As a kid in my pre-teens growing up in Waco, I saw the DFW Metroplex as a bustling metropolitan Promised Land. My older sister and her husband lived here (as eventually would I), and a road trip to visit would sometimes come with a chance to spend a day at Six Flags, Lion Country Safari, or some other fun destination in the Entertainment Capital of Texas. The sweltering heat would make an aquatic adventure especially alluring to a kid like me. So, with Mom at the wheel, me riding shotgun, and one of my cousins in tow, we popped the pull-tabs off a round of Big Red sodas, veered onto the entrance ramp for northbound Interstate 35, and dismissed Waco for the weekend.
It was 1972, and summer beckoned us to an exciting new destination in Arlington: Seven Seas Marine Life Park. During the drive, a droning faux pirate shanty played inside my head—the newly built amusement park's TV commercial jingle—which I vaguely recall having a tune reminiscent of Jimmy Dean's Big Bad John. That commercial promised escape to an immersive land of pirate ships, killer whales, dancing dolphins, and aquatic shows representing various seafaring nations, all housed within the world's largest inland sea life park right smack-dab in the heart of the DFW Metroplex. I could hardly wait to get there.
Abandoning the air-conditioned comfort of Mom's car, we waded through the midday heat that radiated in visible, translucent clouds off the parking lot pavement. The park's entrance and admission center, nestled behind a towering fiberglass rock façade that I found reminiscent of a sea cave from a Godzilla movie, looked as if it might provide some welcoming shade. But the air inside was just as stifling as the air outside. Flicking blowflies away from damp skin, we slowly made our way to the front of the line and through the turnstiles. Emerging into the open air of the park, we were welcomed by a light breeze, the refreshing sight of blue water, and the mighty looming masts and keel of the pirate ship Bona Venture.
I was just one of many thousands of kids throughout Texas whose unbridled excitement convinced reluctant parents to take us on the requisite pilgrimage to Seven Seas that summer—and over the next short few.
---
The population of Arlington was a mere 7,500 when 25-year-old Tommy Joe Vandergriff was elected mayor in 1951. Vandergriff's father, Thomas "Hooker" Vandergriff, owned and operated a successful chain of Chevrolet dealerships and had moved his family from Carrollton to Arlington in 1937 to open a new Chevrolet dealership downtown. Tommy Joe was a soft-spoken, yet tenacious young man who had spent his childhood struggling to turn a debilitating speech impediment into a rich, resonant voice suitable for the career in radio to which he aspired. Vandergriff had earned his bachelor's degree in broadcast journalism at the University of Southern California where he had been captivated by the prosperity The Golden State enjoyed as an entertainment mecca. Although his brief stint in broadcasting was by no means unsuccessful, Arlington's movers and shakers took note that Vandergriff's disarming baritone voice was accompanied by a powerful and persuasive oratory skill—the kind that distinguished the most effective and successful politicians of the era. They by-God needed that kind of skill at City Hall.
The mayor who preceded Vandergriff, B. C. Barnes, was not unpopular. No animosity existed between the young candidate and the elder incumbent. There was a larger reason for Vandergriff's decision to run. The General Motors Corporation was searching for a place to build a major new automobile assembly plant, and GM executives knew the Vandergriff family from their longtime association with the corporation. Citizens and decision-makers alike put their money on Tommy Joe as the man who could persuade General Motors executives to build their new plant in their city, and in his first in a long, unprecedented string of accomplishments, the youngest mayor ever elected in Arlington (a record that still stands) came through for them.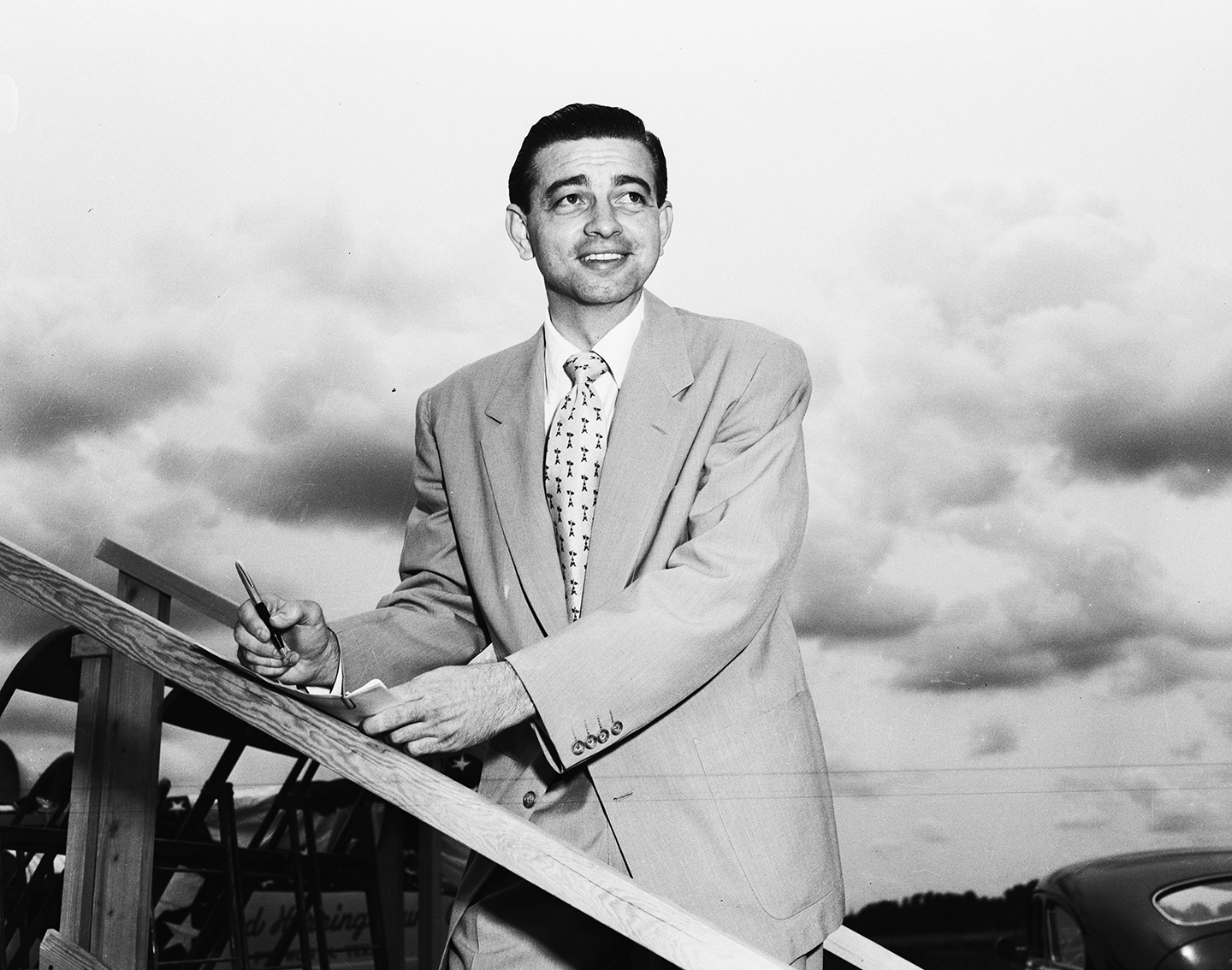 Arlington Mayor Tom Vandergriff at the Groundbreaking Ceremony for the General Motors Plant in Arlington
For the mayor who would come to be known as "Mr. Arlington", the engine of imagination chugged through every waking hour, churning up new ideas for bringing jobs, revenue, and growth to the as-yet inconsequential little town that lie sleeping midway between Dallas and Fort Worth. Vandergriff's ideas proved infectious; they inspired partnerships; they drove results. Arlington woke up. Its population soared—it had grown some 2000% by the end of Vandergriff's first decade as mayor.
The first comprehensive study for an east-west superhighway between Dallas and Fort Worth had been prepared as early as 1944, but the proposed alignment was deemed unsuitable, largely due to the whopping $61 million price tag (slightly over $1 billion in 2023 dollars). The chambers of commerce of both cities continued to promote the expressway, and when the Dallas-Fort Worth Turnpike finally opened in 1957, it brought hopes of cooperation between the two major cities which had historically been rivals—even enemies—yet whose commercial fortunes were tightly intertwined. Those hopes were elevated to lofty vision by a real estate developer named Angus G. Wynne, Jr., and Arlington was at the heart of his vision. "Dallas and Fort Worth are going to grow together, and they're going to meet right here," Wynne declared.
Upon returning home to Texas from World War II with numerous medals and ribbons, Wynne had begun serving as the president of American Home Realty. The company brokered a deal to buy the Blessing and Giddens Mill and Lumber Company, Dallas' oldest and largest mill. Wynne would use the land to build a $25 million home and shopping development named Wynnewood. This Dallas development was contemporaneous with New York's more well-known Levittown. It featured 2,200 houses and 1,000 apartments with its centerpiece a major shopping area to serve its residents. Wynnewood was the largest integrated home and retail building project in the nation at the time and remains a vibrant Dallas neighborhood today.
Wynne's next major project, the Great Southwest Industrial District, was well underway by the time the new DFW Turnpike opened. The over 8,000-acre industrial park, straddling the border of Grand Prairie and Arlington, would improve connectivity between the two cities and open both to increased commercial and residential development. At its outset, Wynne envisioned the GSWID to be the largest master-planned business park in the nation. It would set the standard for industrial and business development in the post-World War II era. Yet despite Wynne's efforts, the park did not achieve rapid success in selling retail and warehouse space to prospective businesses. GSWID needed a funding vehicle to bolster its ongoing development.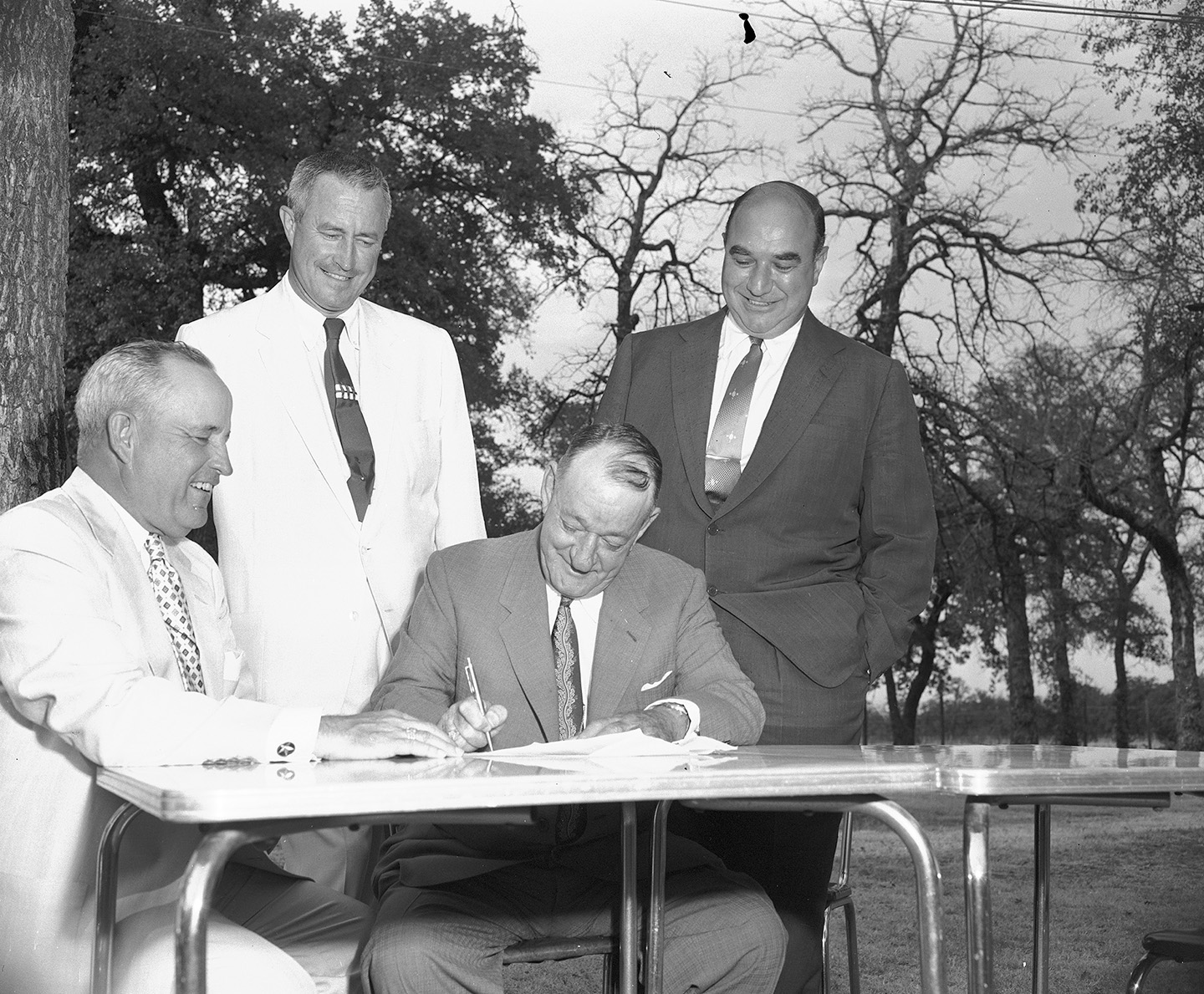 Paul Waggoner (center) signs the papers for the sale of his 3D Ranch (former site of Arlington Downs Racetrack) to be developed into the Great Southwest Industrial District, 1956. (Left to right): Toddie Lee Wynne, Angus G. Wynne, Jr., and William Zeckendorf.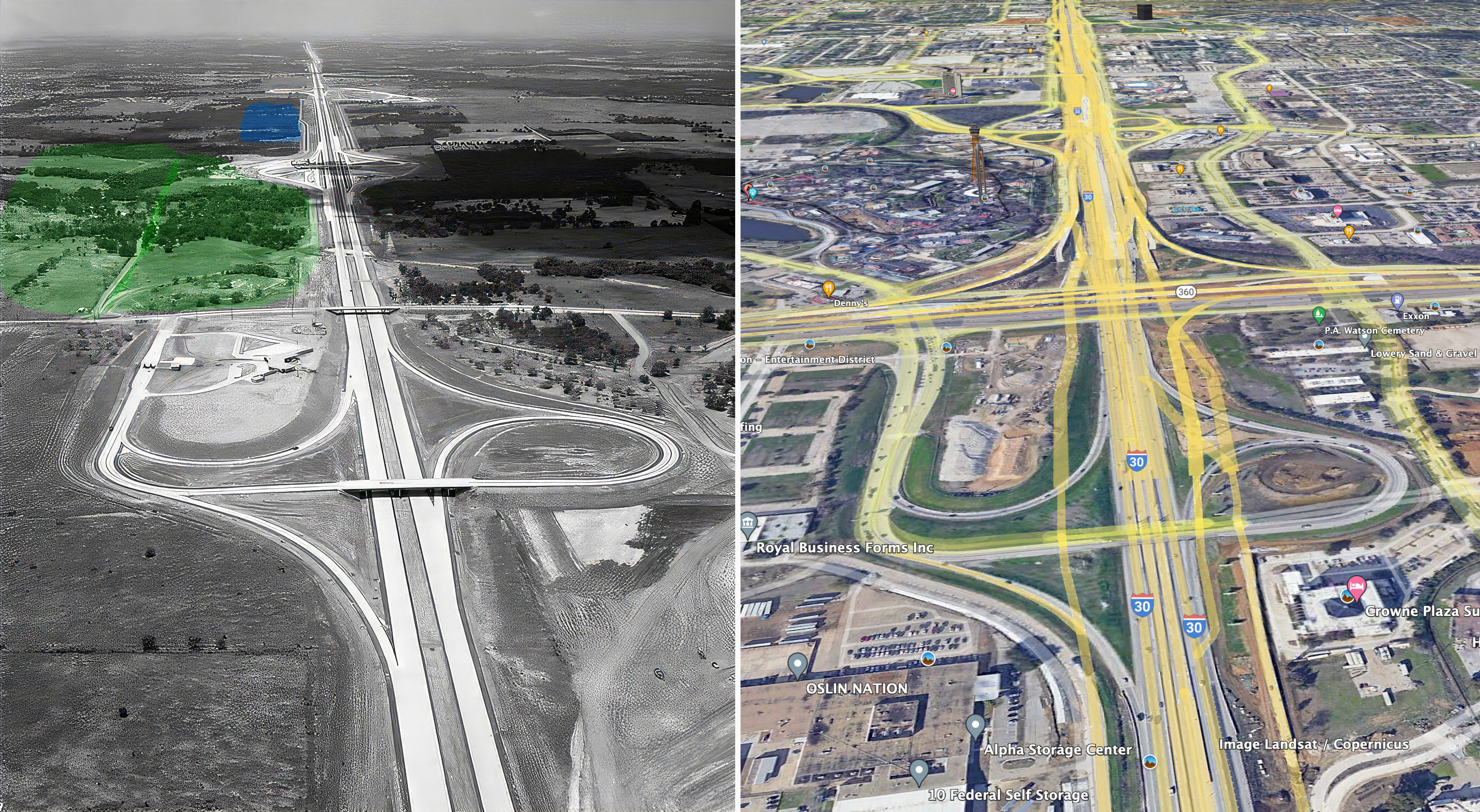 This view looks west along the Dallas-Fort Worth Turnpike, now IH-30: (left) just before it opened in 1957 with the yet undeveloped land that would become Six Flags Over Texas shaded in green and, in the distance, the land that would become Arlington Stadium and Seven Seas Marine Life Park shaded in blue. A 2023 Google Maps view (right) shows the same freeway interchange largely unchanged while massive development has grown around it.
Wynne conceived of constructing a large sporting complex nearby to draw in customers. He selected a 293-acre plot where he planned a thirty-two-lane bowling center, a large retail building for sporting equipment, recreational lakes and ponds, a shooting range, and a small theme park. During the planning stages of the complex, Wynne and Tom Vandergriff had a conversation during which Vandergriff planted the seed of one of his own ideas. He suggested that Wynne take his family to visit Disneyland in Anaheim, California. The seed sprouted. Wynne returned to Texas with new resolve to build a great theme park that would celebrate the history of Texas. He planned to name the park Texas Under Six Flags, but his wife didn't like the name. "Texas isn't 'under' anything," she scolded. The name was changed to Six Flags Over Texas. The park opened in 1961 and was an instant success, fulfilling Wynne's and Vandergriff's dual vision in grand fashion.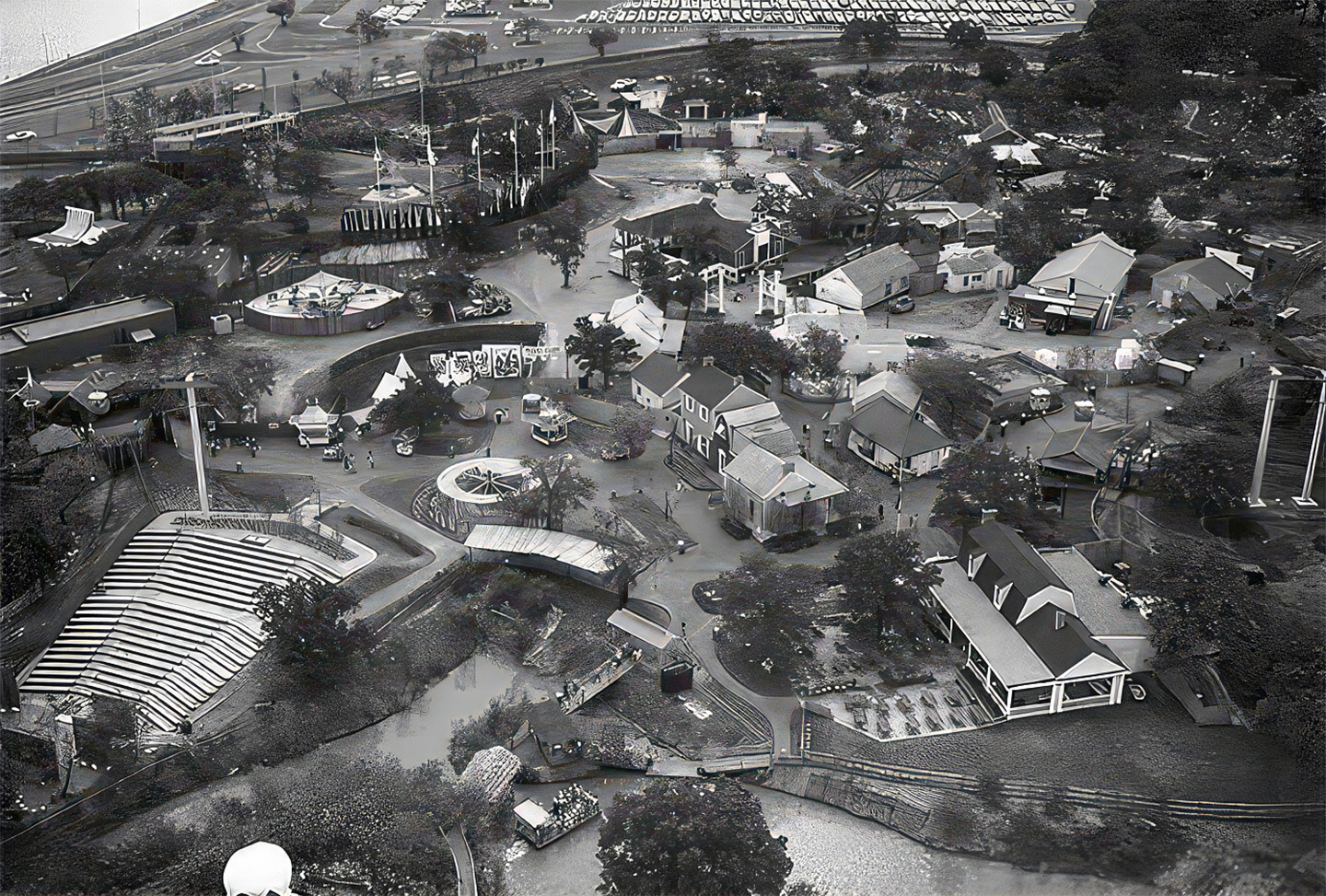 This aerial view of Six Flags Over Texas from August 1961 shows the park in its original configuration.
Tom Vandergriff had grown up in a family with a strong affinity for baseball, and a large, deep bowl-shaped field along the Turnpike not far from Six Flags happened to be a natural site for a stadium. Built in 1965 as Turnpike Stadium, the new 10,000 seat facility, designed to be expandable, became home to the minor league Dallas-Fort Worth Spurs. Of course, the stadium's real purpose from the beginning had been to attract a major league team to the Metroplex. Vandergriff set about the task of finding that team. He first sought to lure the Kansas City A's, then turned his attention to the Washington Senators who were struggling both financially and on the field. After their 1971 season, the Senators moved to Arlington and became the Texas Rangers. Turnpike Stadium was expanded to accommodate its new major league team. Now capable of seating over 30,000, it was renamed Arlington Stadium.
With Six Flags booming, Vandergriff knew major league baseball would give motorists, tourists, and businesses one more reason to steer toward Arlington's little stretch of the DFW Turnpike. But while everyone assumed his singular focus was on luring a baseball team, Vandergriff's attention had often wandered to the considerable acreage immediately adjacent to the stadium. What could be better for Arlington than major league baseball and a successful amusement park? Major league baseball and two successful amusement parks, of course.
Vandergriff turned once again to California for inspiration. He approached Walter Knott of Knott's Berry Farm about building a similar park in Arlington. Knott, then in his eighties, felt he was too old to embark upon such a venture. Rather, he suggested Vandergriff visit the newly built marine park in San Diego, SeaWorld, and talk to its founder, George Millay. Vandergriff took Knott's advice and was highly impressed by his visit to SeaWorld. Millay, however, refused to meet with Vandergriff or even take his phone calls regarding the prospect of opening a SeaWorld in Texas.
Undaunted, Vandergriff returned home determined to bring a marine life park to fruition in Arlington. He turned to Angus G. Wynne of Six Flags with the idea. After some discussion, Vandergriff and Wynne agreed that Arlington would finance the building of the park and Wynne would design and operate it.
Arlington's new theme park would be called Seven Seas.
To be continued...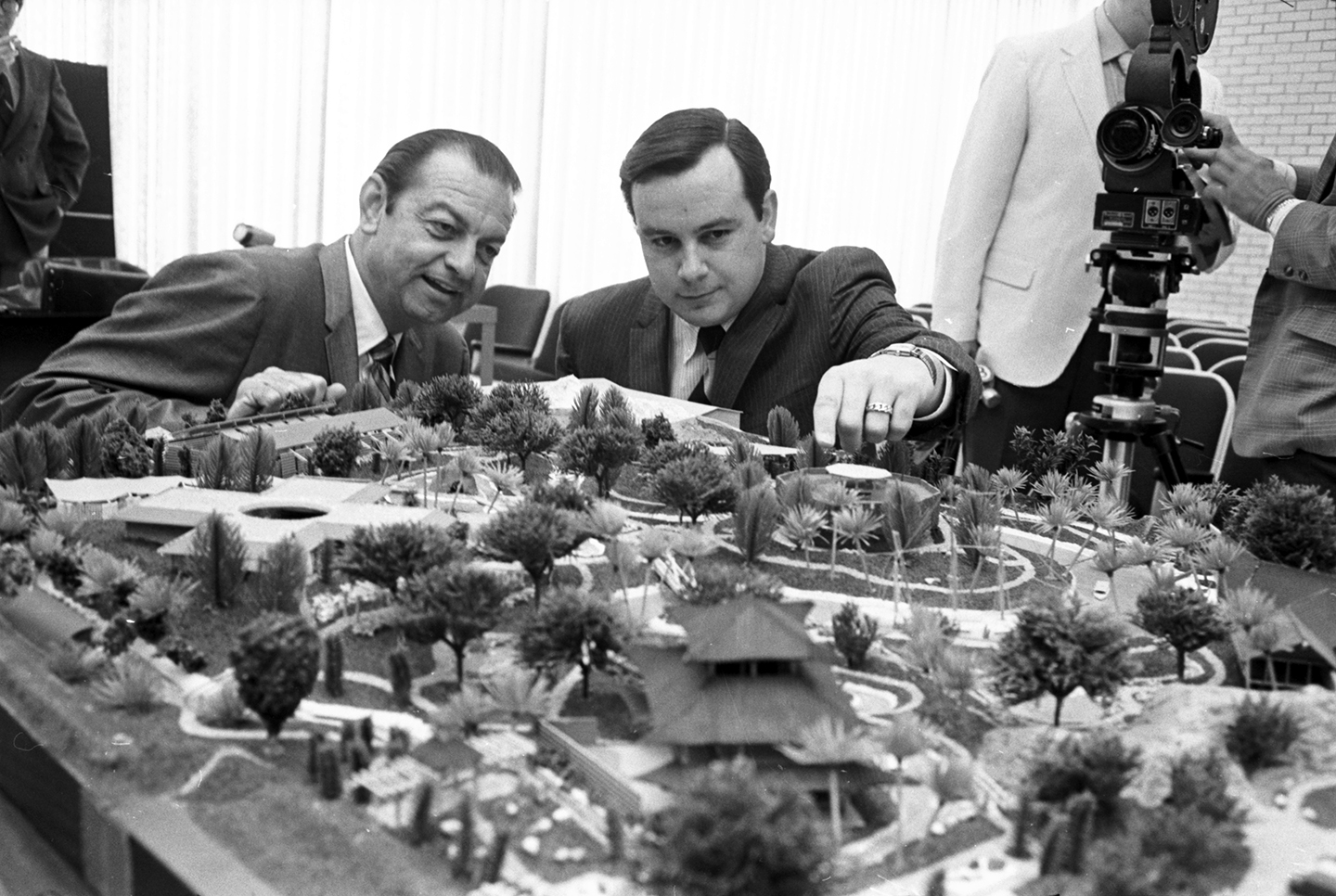 This 1970 photo shows Arlington Mayor Tom Vandergriff and Mike Jenkins examining a model of Arlington's newly planned Seven Seas Marine Life Park.
Brian Burns is a board member of the Arlington Historical Society and long-time armchair historian. When he's not building cool web solutions for a growing roster of clients throughout the U.S. and beyond, he enjoys spending time with his wife, kids, and grandkids, tinkering with his collection of vintage and modern arcade pinball machines, bicycling in River Legacy Park, and reading, researching, and writing about historical topics.