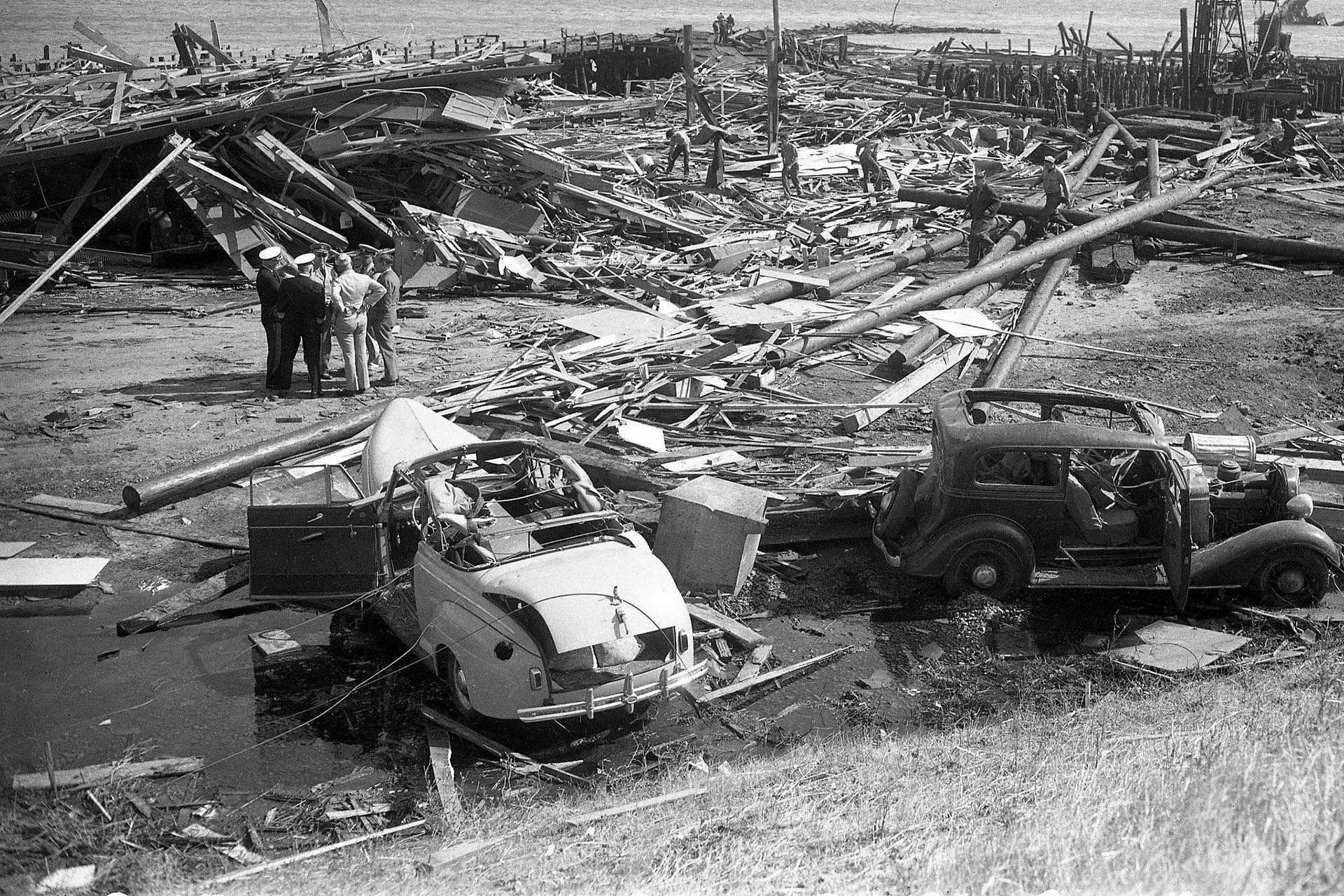 Damage at the Port Chicago Pier after the explosion of July 17, 1944
Ross Dee Hunt: "His life an ideal - his memory an inspiration"
Seaman 2c Ross Dee Hunt (1918-1944) was a young Black man from Arlington killed in World War II's Port Chicago military disaster. He received the World War II Victory Medal and the American Campaign Medal for his sacrifice and service. Mr. Hunt is honored at the Arlington World War II Memorial, with his name and rank inscribed on the In Memoriam plaque.
Ross Dee Hunt was born February 25, 1918, in Arlington, Texas, to Arthur and Alice Williams Hunt. Dr. F.L Harvey, a renowned local physician, delivered Ross, who would join brothers Horace and Morris. The birth certificate confirms that Ross was colored, or non-white, and legitimate – meaning his parents were married at the time of his birth.
Research supports that Ross' mother followed a common family nomenclature. Her son's name came from blending the names of two uncles. One of his maternal uncles is named Ross, while another uncle is named Dee Williams.
Ross' parents were native Texans employed in the service industry. Arthur was a general laborer, and Alice, a laundress.
Community involvement was meaningful to the Hunt family. The family attended Mount Olive Baptist Church. The church's 1968-69 yearbook listed Arthur Hunt as "an old and faithful church member," a deacon, and a church officer. Arthur, Morris, and Ross were members of Mason Lodge #103, located in Mosier Valley.
By 1930, the Hunt family lived at 103 Collins Street. (8) Arthur owned the family home, valued at $200. All three boys attended Booker T. Washington School, located on Houston Street, the only elementary school for Black students.
By 1940, Ross was married to Curley Bee Hudson. The young parents, ages 22 and 18, would later have a daughter, Dixie Faye, born on September 27, 1941.
On September 16, 1940, the United States Congress passed the Selective Training and Service Act of 1940. Less than a month later, Ross registered for military service.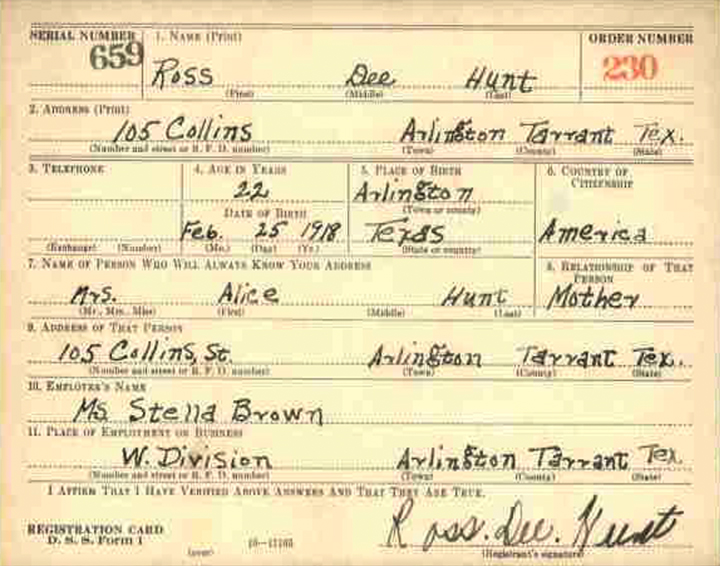 Ross' draft card described him as 5'7" and 164 pounds, with black hair, brown eyes, and a dark brown complexion. His mother, Alice, was listed as next of kin.
Ross enlistment commenced on January 12, 1942, when he began serving in the U.S. Navy as Seaman Apprentice (E-2). He spent his brief service time loading munitions at California's Port Chicago Naval Magazine. Two years later, Ross would be tragically killed in an accident.
Port Chicago Accident
"On the evening of July 17, 1944, at the Port Chicago Naval Munitions base located on San Francisco Bay, the largest state-side military disaster of World War II occurred, killing 320 men and injuring another 390 men on the base. Two transport ships, the E.A. Bryan and the Quinault Victory, were destroyed.
The small town of Port Chicago, only 30 miles from San Francisco, also suffered tremendous damage. Chunks of smoldering metal weighing hundreds of pounds and even un-detonated bombs rained down upon the community, damaging over 300 structures and injuring over 100 people. Miraculously, none of the bombs exploded, and no residents of the town of Port Chicago were killed. By the sheer size of the blast, the Port Chicago explosion was as large as a 5-kiloton bomb." [Source www.nps.gov/poch]
Racial Inequality
"For reasons that can never be accurately determined, a cataclysmic series of explosions—the largest man-made detonation in history to that point—erupted with the force of 5,000 tons of TNT. Instantly, 320 men, two-thirds of them African American, were killed, and hundreds more were injured. The ships they were loading were nearly obliterated; a locomotive evaporated. The force of the blasts was felt 20 miles away in San Francisco." "The Port Chicago disaster highlighted systemic racial inequality in the Navy. A year before the disaster, the U.S. Navy had over 100,000 African Americans in service, but not one black officer." [Source https://en.wikipedia.org/wiki/Port_Chicago_disaster]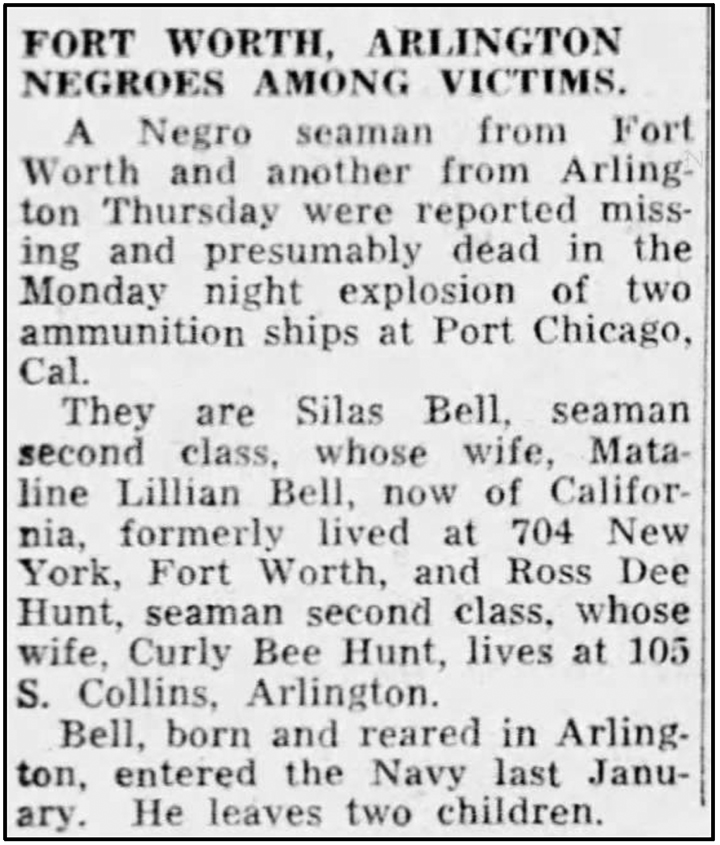 An Inspiration to Others
On July 20, 1944, the Fort Worth Star-Telegram reported that Ross Dee Hunt was one of the fatalities. He was 26 years old. Ross was survived by his wife, Curley Bee, and their daughter, Dixie Faye; parents Arthur and Alice Hunt; brothers Horace and Morris; and various other family members and friends. He's buried at Mosier Valley Cemetery in Euless, Texas. His epitaph reads, "His life an ideal, his memory an inspiration."
Port Chicago Naval Magazine National Memorial
The blast site is now known as The Port Chicago Naval Magazine National Memorial. It is located at the Concord Naval Weapons Station, near Concord, California. It was dedicated in 1994 and is now a part of the National Park System.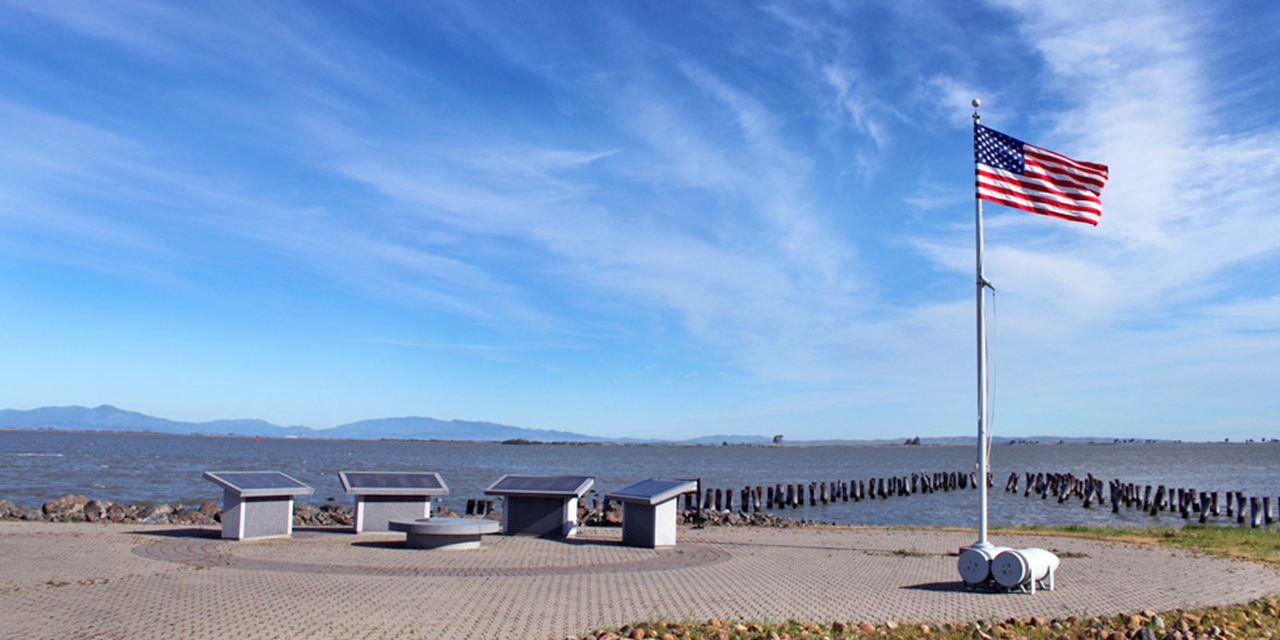 Port Chicago Naval Magazine National Memorial, Martinez, CA
For more info, visit https://www.nps.gov/poch/index.htm
Ross Dee Hunt is honored at the Arlington World War II Memorial near City Hall. His name and rank are listed on the plaque "In Memoriam | The World War II Casualties of Arlington, Texas."
Because of the sacrifices of men such as Ross Dee Hunt, we remember the price of freedom.