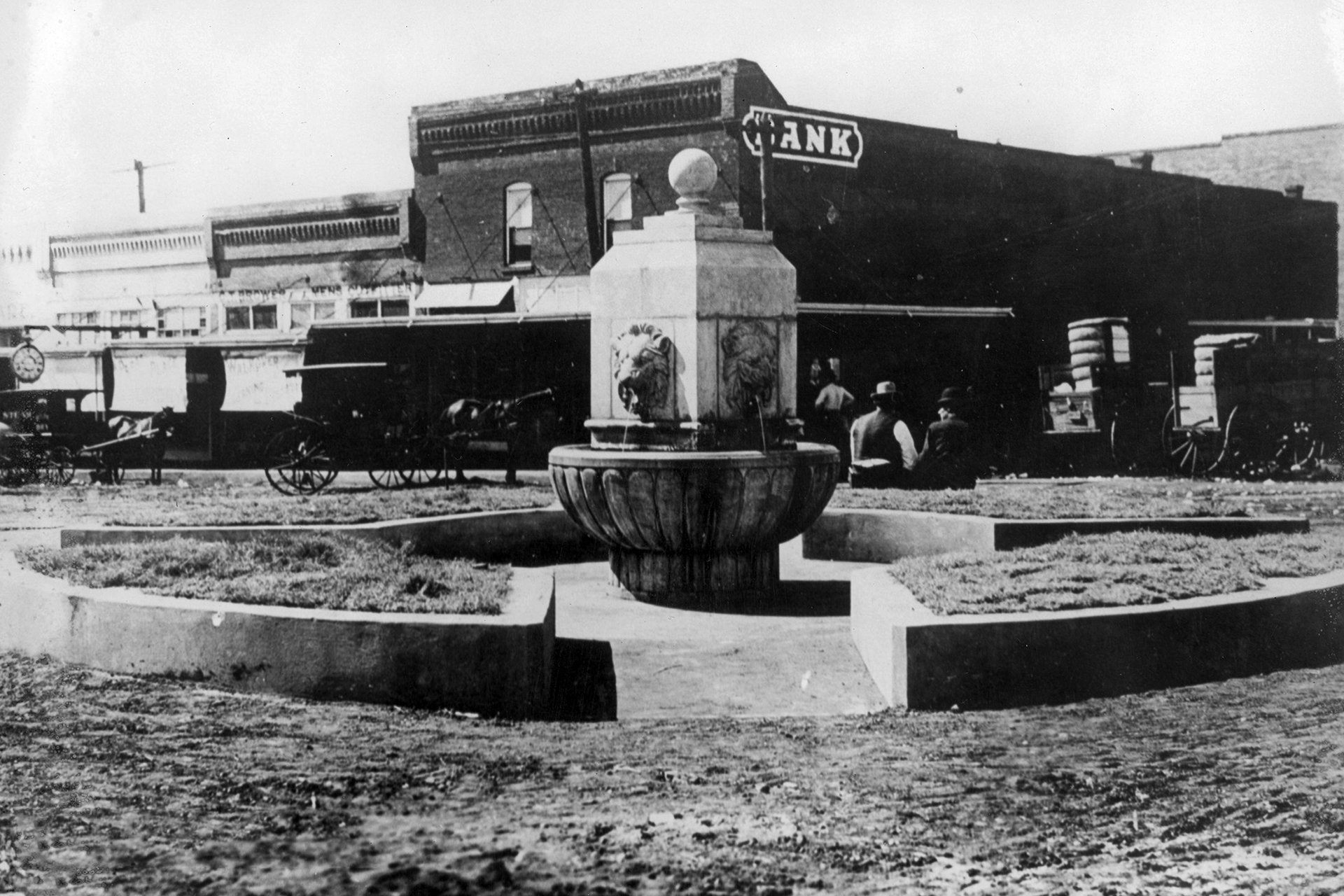 Arlington's famous mineral well in the heart of downtown
From Hayter to the Hill: Tour Historic Downtown Arlington (Part 1 of 2)
History comes alive in Downtown Arlington! A short trek up Center Street offers a unique look at the city's past. Much of Downtown Arlington is pedestrian-friendly. This tour would be a great way to explore the area on foot or bicycle.
Part 1 explores some of the city's founders and early history. Part 2 takes us through historic neighborhoods that are still thriving today. Along the way, there are historical markers, local landmarks, people, places, and events.
From Hayter to The Hill, let's begin the Historic Tour of Downtown Arlington!
Part 1 Highlights:
Founders Plaza
City of Arlington Historical Marker
George W. Hawkes Downtown Library Branch
Knapp Heritage Park
Bankhead Highway through Arlington Historical Marker
To start the tour, head to Founders Plaza located at the Levitt Pavilion. It's near Center and Abram Streets. The first stop is the Andrew Hayter bronze bust and historical marker. Originally from Tennessee, Reverend Hayter (1818-1900) was one of the early settlers in the area and is known to many as the "Father of Arlington." A pioneer preacher, as well as a surveyor, his skills proved helpful to railroad developers. His half-mile-square settlement, known as "Hayter" or "Hayterville," would soon become Arlington.
Founders Plaza also has plaques for six of the founding families of Arlington. These plaques provide information, stories, and photographs of the families and the early days of Arlington. Take a few minutes to read about the Rose, Rankin, Cooper, Collins, Ditto, and Rogers families. These families helped lay the foundation of modern-day Arlington.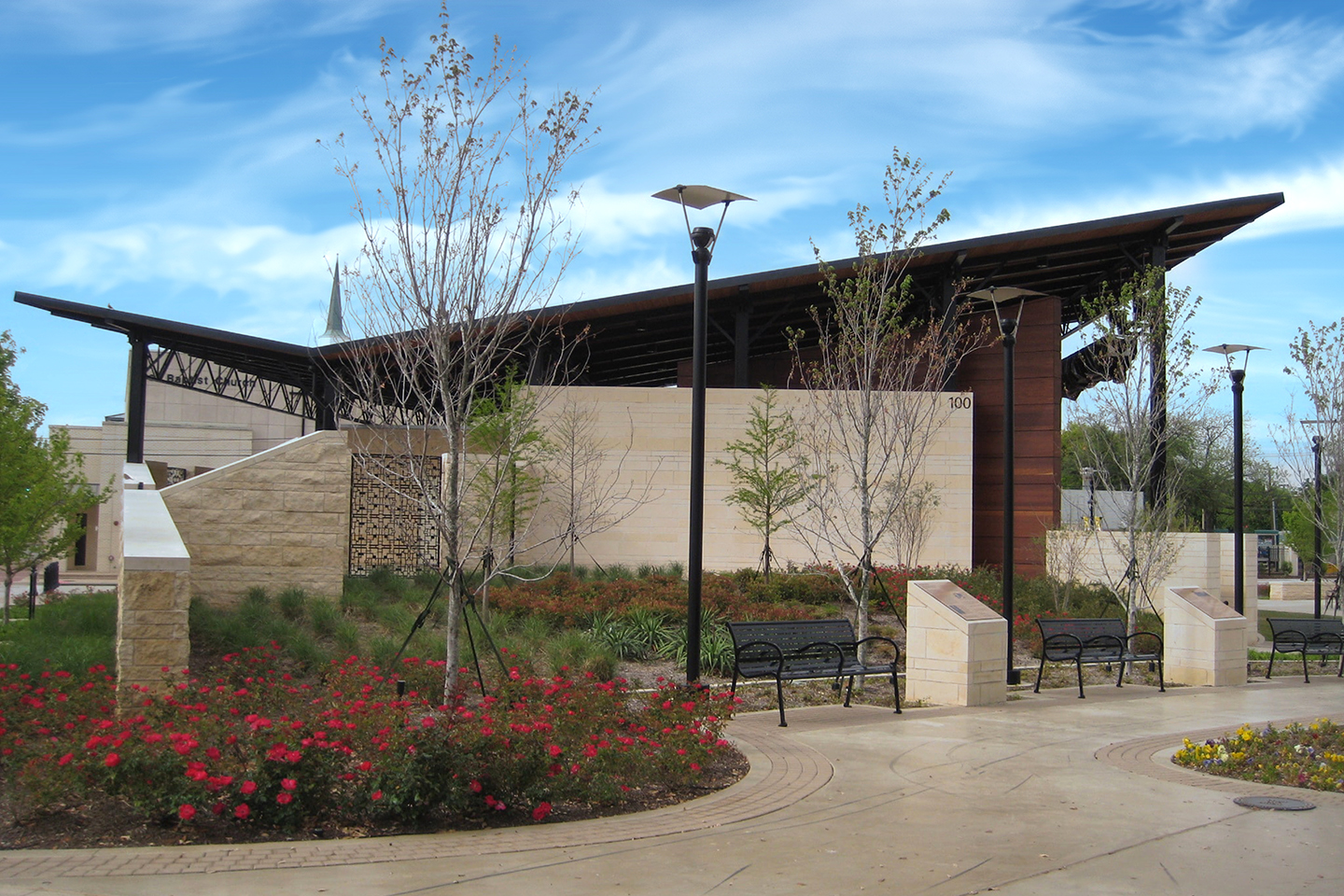 Founders Plaza at Levitt Pavilion, Arlington, TX
Next, head north on Center Street to the City Center Plaza. Stop by the World War II tribute area. There's a historical marker and a life-sized bronze statue of Colonel Neel E. Kearby (1911-1944). Colonel Kearby graduated from Arlington High School in 1928 and studied at what is now UTA. He joined the U.S. Army Air Corps and was one of the most decorated fighter pilots of World War II, winning the Medal of Honor in 1943. He was killed in action in 1944, in the Pacific theater.
There are three other historical plaques in the area, which pay tribute to members of the armed forces in WWII who were associated with Arlington.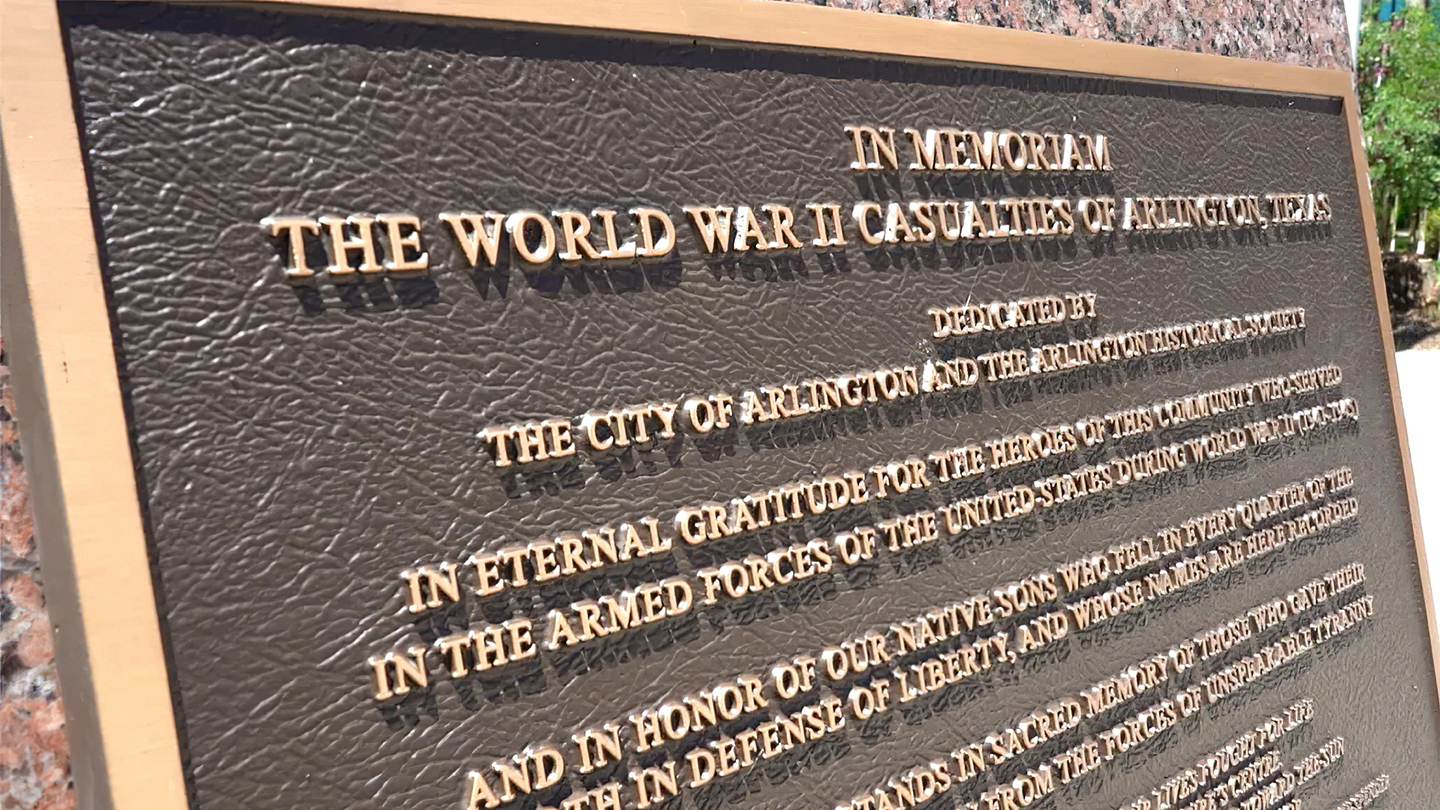 Plaque located in City Center Plaza memorializing the World War II casualties of Arlington
Near City Hall is the City of Arlington historical marker, which gives a brief overview of our city. Slightly to the west -- across from the Arlington Museum of Art -- is Worthington National Bank. It's a City of Arlington Local Landmark, built in 1939. Serving as the City of Arlington Post Office until 1964, the building was restored in 2001 and became a bank.
Before leaving City Center Plaza, stop by the Arlington Public Library's downtown branch as a worthy detour. They have an entire room dedicated to Genealogy and Local History, with books, special collections, maps, newspapers, databases, and many more resources.
Wow! All of that, and we've barely even started the tour. Let's keep going. The next stop is one of the Arlington Historical Society's venues: Knapp Heritage Park.
Knapp Heritage Park contains three of the oldest structures in Arlington. While here, you can enjoy guided tours of cabins from the mid-1800s and a 1910 schoolhouse. Also on display are a blacksmith shop, a general store, a water storage tank, a windmill, and even James Knapp's former law office.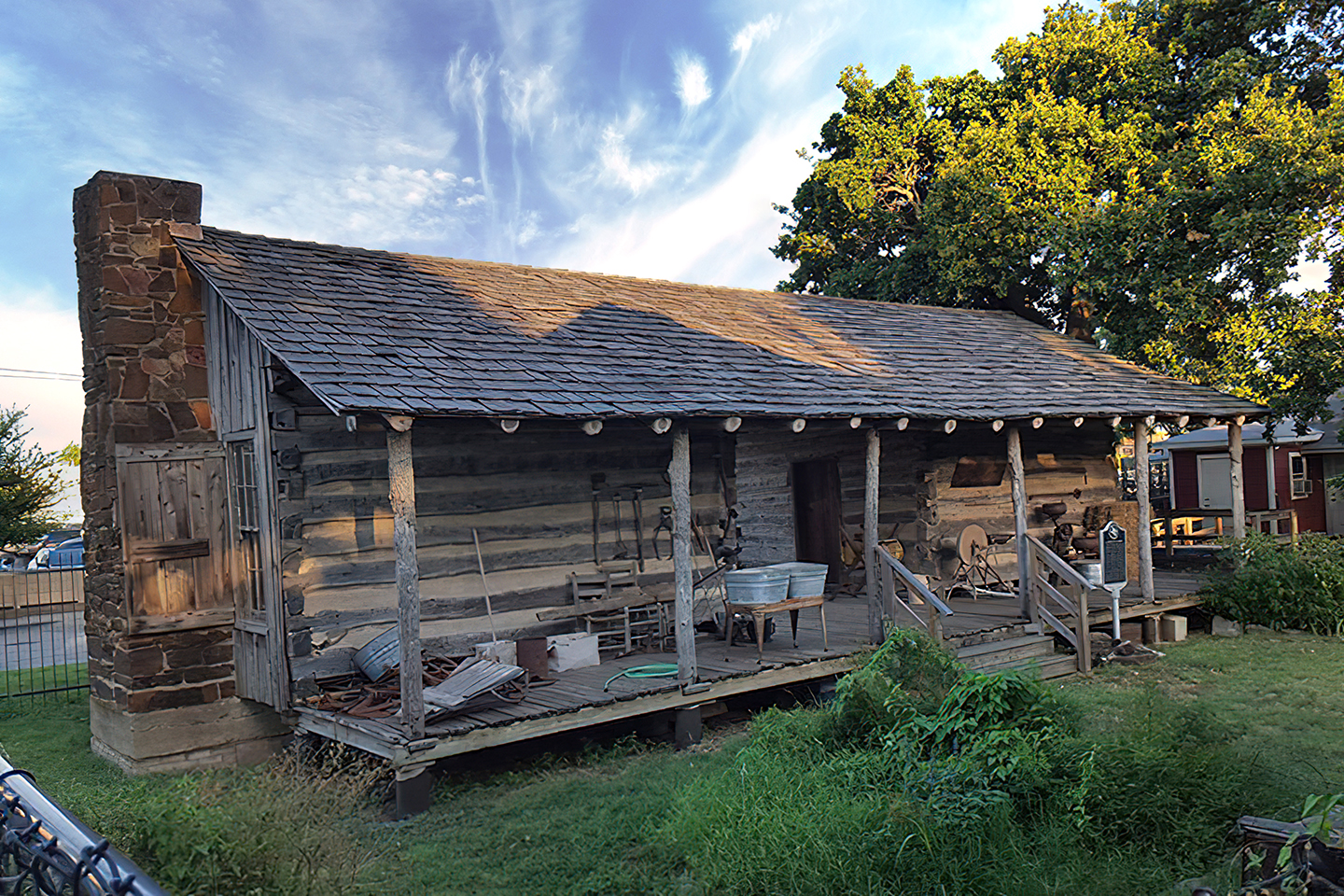 P.A. Watson log house at Knapp Heritage Park, downtown Arlington
Part 1 of the tour is nearing its end, but it's not over yet. Let's head back to Center Street and stop by Arlington Music Hall.
Arlington Music Hall opened in 1950 as a movie theatre. Today, it's used as a performance venue. This intimate theater is a great place to see concerts. The marquee sign outside still looks as it did in the 1950s.
The last stop on Part 1 of the tour is just down the block near Division Street. Check out the "Bankhead Highway through Arlington" historical marker. The name of this east-west route has changed over the years, but it helped make Arlington what it is today. Known today as Abram Street, this route helped transform Arlington from a small town to a thriving community. Tourism, commerce, and travel all benefited, and so did the city.
Across the street from the marker is the historic Vandergriff Building. The Vandergriffs were an influential family in Arlington's history. The building starts Part 2 of the tour, which will be in a subsequent article. We'll also visit the residential areas of the Old Town Historic District and The Hill.
Jason Sullivan is an Arlington Historical Society board member and the editor of the Arlington Historical Society Newsletter, from which our history articles are derived. Jason lives in Arlington, Texas, with his wife, Jennifer, and their three cats – Cavender, Merry, and Milo. He enjoys reading, writing, listening to music, and watching hockey and documentaries.