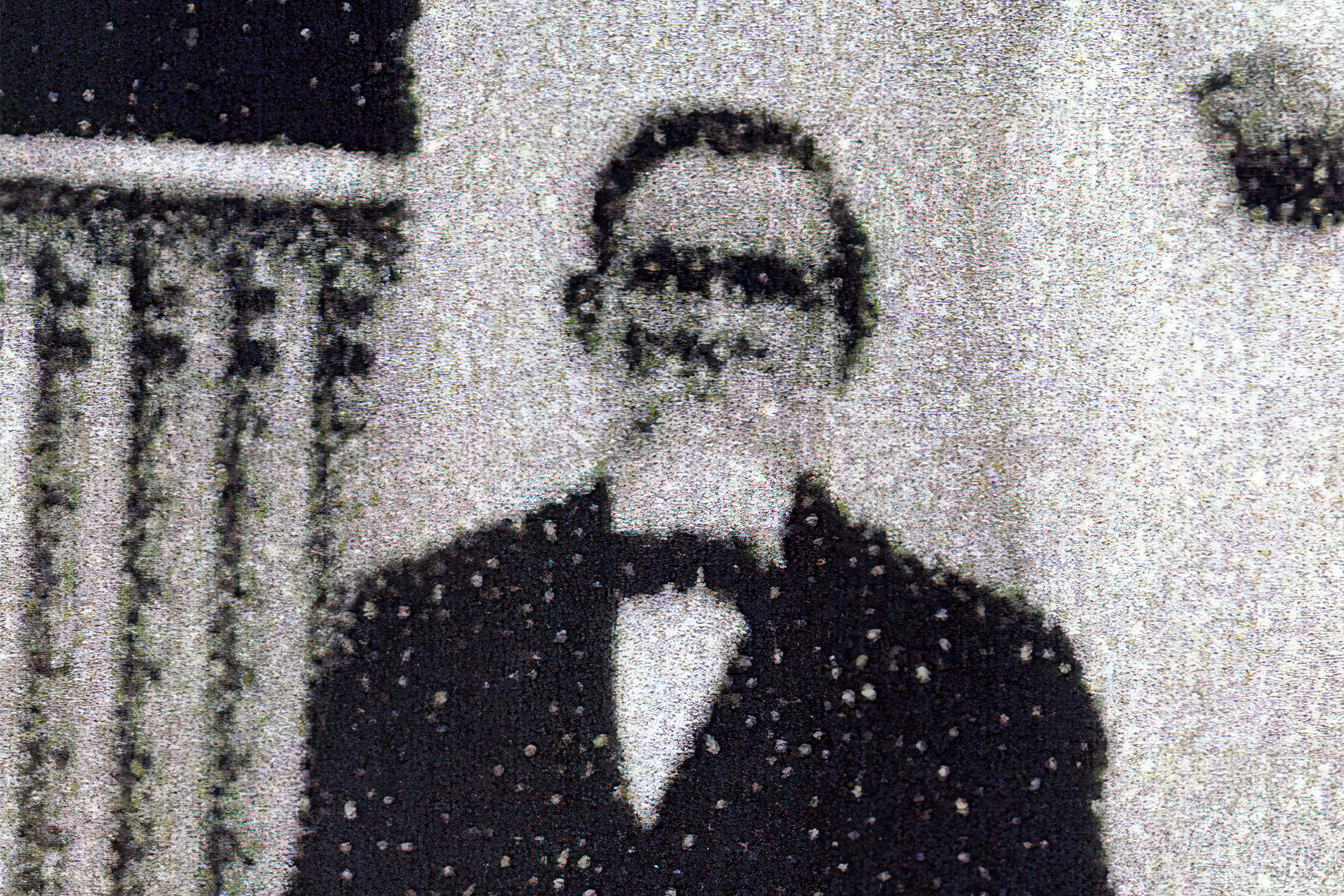 James Daniel Cooper: Arlington Pioneer
James Daniel Cooper (1841-1917) was born in Crawfordville, Georgia, moved to Alabama with his parents, clerked, and then owned a store.
In 1862, at age 21, J.D. Cooper enlisted in the Confederate Army at Dadeville, Alabama, Co. A, First Regiment of Alabama Volunteers. He was discharged from military service on May 6, 1865, at Atlanta, Georgia.
In 1867, he married Luna A. Dickson (1849-1879), and at the time of the 1870 Census, they were living in Dadeville, Alabama with two young sons, Daniel Dickson Cooper (1868-1891) and James Newton Cooper (1870-1944). In 1872, a third son, William David Cooper (1872-1937) was born to them.
The family came to Dallas in 1874, and in 1876 moved to 400 acres of unbroken prairie in Tarrant County to farm, about four miles southeast of the new town of Arlington, on the Dallas County line, in Tarrant County Election Precinct 7. On July 28, 1876, at the first auction of lots in the new town, he bought Arlington lot 4/49 on the east side of S. Center Street for $62, thus becoming one of the original property owners in the new town of Arlington.
Mr. Cooper was one of thirteen men who met at Shultz Lumber Company in 1878 to form the Centenary Methodist Episcopal Church, South (now First United Methodist Church). His name was placed on the cornerstone of the first church building. He was also an early contributor of land and money to build Arlington College, forerunner of The University of Texas at Arlington.
In 1878, J.D. and Luna had a fourth son, John Marvin Cooper (1878-??). Luna died the next year, in December 1879, at age 30. The 1880 Census shows the widowed J. D. Cooper living with his and Luna's four sons (Daniel Dickson, James Newton, William David, and John Marvin) and an employed housekeeper on the 400-acre farm which had been purchased in 1876, in Election Precinct 7, Tarrant County.
The origins of the modern Cooper Street started when Arlington landowner James Daniel Cooper allowed travelers en route to/from Mansfield to cut through his property. It was called Cooper Road at the time. In the 1920s, Cooper Road became Cooper Street of Arlington, Texas. By this time some of J.D. Cooper's original farm property was within the city limits of Arlington.
Early in his time in Tarrant County, J. D. Cooper bought several large farms. He tended to hang on to them and owned a total of 963 acres at the time Luna died. He bought smaller tracts when they were available on the near west side of Arlington, accumulating 145 acres in the O. Medlin survey immediately west of what is now Cooper Street. Most of that he sold as one or two-acre homestead lots to individuals. However, he also sold two larger tracts for the establishment of the Berachah Home for homeless unmarried, and often pregnant, young women - 7 acres in 1901 and 20 acres in 1906.
On January 20, 1881, the widowed J. D. Cooper married a second time, to Mary Frances Caroline Thomas (1861-1944). The couple raised two more sons, Oscar Thomas Cooper (1882-1954) and Horace Wyatt Cooper (1883-1954). For his new homestead, James Daniel Cooper bought 5 5/8 acres in the northwest corner of the John Huitt survey, now the southeast corner of the intersection of West Abram and Cooper Streets, for $1,200, in 1882 (see Note at the end of this article). On this tract, he built a home for his family, which came to be known as the Cooper House. Its two-story Colonial Revival design with four large columns at the entrance porch and its wide board floors made it rather majestic.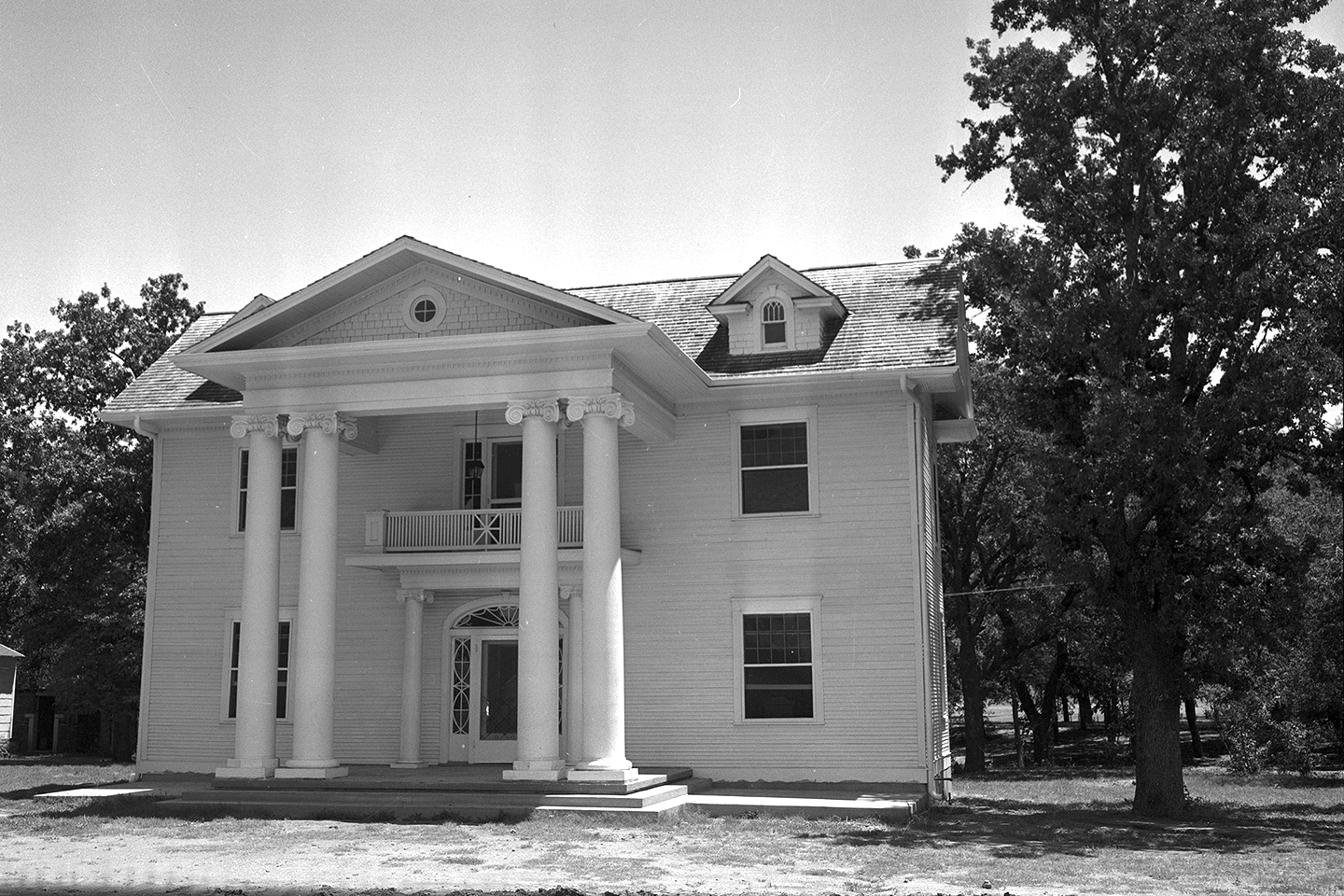 The Cooper House
James Daniel Cooper's son, James Newton Cooper, built the Cooper Hotel in 1928. The building still stands (but without its original second story) on the northwest corner of Division and Center Streets. Two of James Newton's children, Mary and Howard, were life-long residents of Arlington. Son Horace Wyatt Cooper retained ownership of the Cooper Family home until 1953, when it was given to the City and relocated to a site at the entrance to Meadowbrook Park, on Willis Street, for use as the City library. When a larger library was needed by the City, in 1962, the home was rented to the Arlington Woman's Club for use as a meeting place. In 1965, the home was declared a Texas Historic Landmark, and awarded an "Official Historical Medallion" by the State Historical Survey Committee. The women of the Arlington Woman's Club cared for it until it was destroyed by a vandal-set fire on Halloween night 1998.
James Daniel Cooper, his first wife Luna, and his second wife Mary, and many of their descendants are buried in the historic Arlington Cemetery, located at Mary Street at the intersection of East Mitchell Street, southeast of downtown Arlington. One of the tragedies in the life of James Daniel and his first wife Luna was the death of their one-year-old daughter, Mattie Luna Cooper, in 1875. Mattie is considered to be one of the oldest documented burials in Arlington Cemetery. James Daniel Cooper's great grandson, Cooper Neil Tucker (1932-2010), was President of the Arlington Historical Society for some four years, starting in 1999, Neil's wife, Becky Tucker, is currently on the Board of the Historical Society.
SOURCES
An article in the June/July 2014 issue of the Arlington Historical Society's newsletter, "Arlington's First Property Owners," by Tom Cogdell, Historical Society Board Member
An inscription by Cooper Neil Tucker, great-grandson of James Daniel Cooper, placed, in 2008, on a Cooper Family marker in Founder's Plaza on W. Abram St., across from City Hall.
An article on the City of Arlington's website, "Cooper Street." https://www.arlington-tx.gov/history/whats-name/cooper-street/
Arlington Historical Resources Survey Update, September 2007, done for the City of Arlington, re gift of the Cooper House to the City of Arlington
Marker placed in front of the Cooper House when it was located in Meadowbrook Park
Note: The Cooper Family marker in Founder's Plaza, the City's website article on Cooper Street, and the marker placed in front of the Cooper House when it was located in Meadowbrook Park all say that the historic Cooper House was built in 1878. However, in 2014, Tom Cogdell, Historical Society Board Member, found in Tarrant County records that James Daniel Cooper did not acquire the land on which the Cooper House was built (southeast corner of the modern W. Abram and Cooper Streets) until 1882. This article is written based on the 1882 date. Another indication that the 1878 date is not correct is found in the 1880 Census. This Census shows that the recently widowed James Daniel Cooper was still living southeast of Arlington, in Election Precinct 7, on the farm he had acquired in 1876, with his and his deceased wife's four sons (rather than living in a new "Cooper House" that supposedly had been built two years earlier, a few miles west of Arlington). There is one other factor that supports the 1882 acquisition date; in 1881, J. D. Cooper remarried, and perhaps this made it seem appropriate to acquire land for a new home.