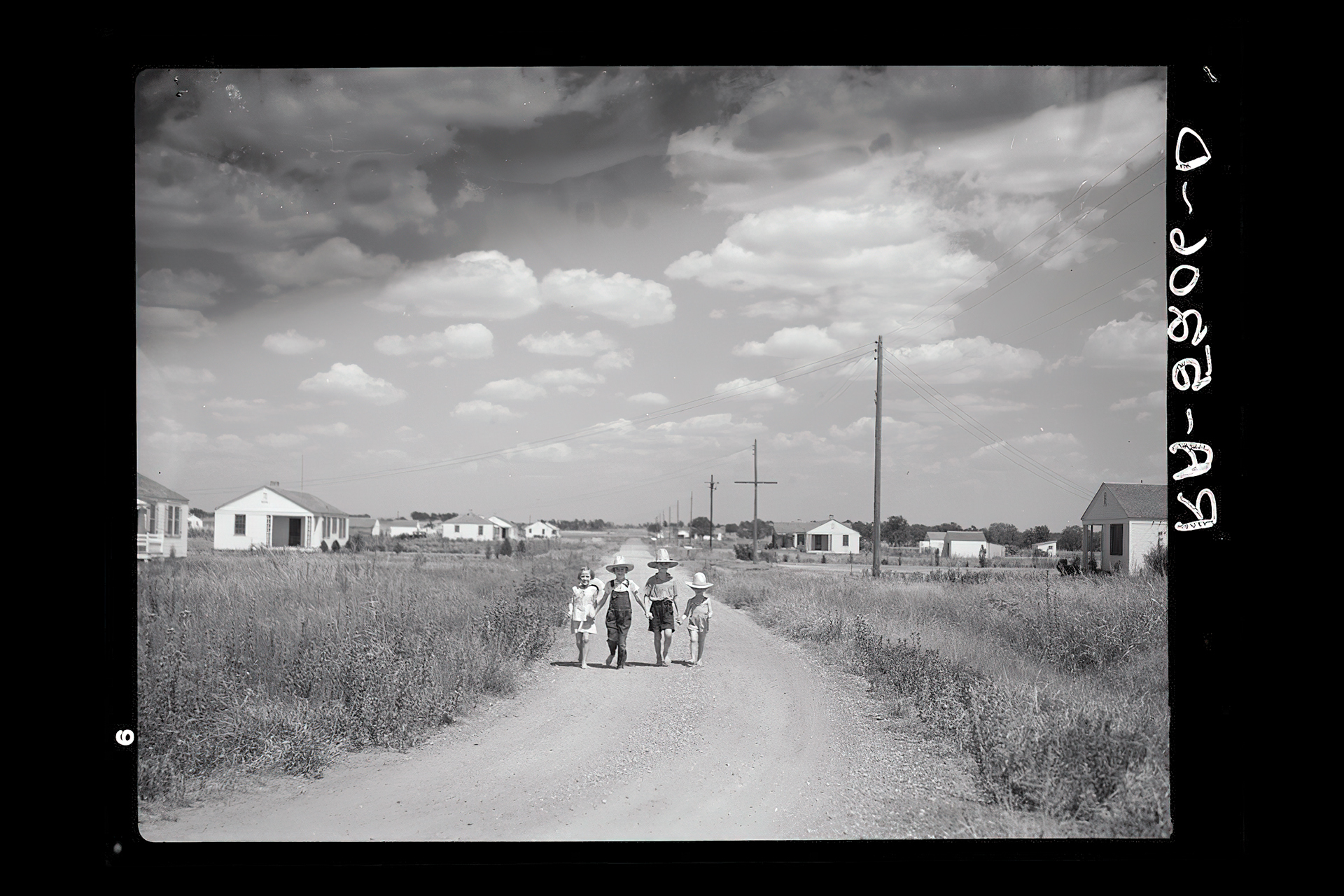 History of Dalworthington Gardens
Editor's Note: Dalworthington Gardens (DWG) is an incorporated city of 1.8 square miles, whose northern border is the town of Pantego. Both DWG and Pantego are totally surrounded by the city of Arlington. The population in 2015 has been estimated at 2,373; in 1950 there were only 267 residents. The city is often referred to as "a rural oasis in the heart of the metroplex." DWG lies within the Arlington Independent School District. Dalworthington Gardens has a most unusual history, which follows.
In the spring of 1933, Carl G. Mosig bought his I5-acre homestead on Arkansas Lane. His wife, Lelia, explains, "There was no Dalworthington Gardens. Arkansas Lane was, as the name implies, a simple country lane." While working in Fort Worth, Carl met Elliott Roosevelt, who married a local girl. Elliott, son of President Franklin D. Roosevelt, brought his mother, Eleanor, to visit Mosig one day. Active in the subsistence homestead program initiated by her husband, Eleanor expressed interest in the vacant land south of Mosig's place. "Soon I learned that Elliott's mother had established one of her idealistic colonies next to my home: Dalworthington Gardens," ninety-one year old Mosig proudly recalls.
The unique history of the Gardens has been the subject of several scholarly papers. Herbert W. Antley's 1980 masters' thesis at The University of Texas at Arlington, "A New Deal Experiment in Planned Utopia: a study of Dalworthington Gardens and the Subsistence Homestead Program 1933-37," probably best traces the community's early development. The National Industrial Recovery Act was enacted by Congress on June 16, 1933, to resolve aspects of the worst depression ever experienced by the United States. Title II, which initiated a Public Works Administration, included funding for the purchase of subsistence homesteads in rural areas, the purpose of which was "to provide for aiding the redistribution of the overbalance of population in industrial centers."
On November 23, 1933, the state's advisory committee met with Carl C. Taylor, Assistant Subsistence Division Director, and federal engineer Francis J. Clair to discuss a proposed homestead location between Fort Worth and Dallas. A 21-member committee was selected to represent local interests. The group inspected several tracts of land that day while bumping along the unpaved roads outside Arlington. Four miles southwest of the city, committee members and government officials Taylor and Clair selected the land just south of dusty Arkansas Lane offered by the Rose-Yates Realty Company of Arlington for the project.
"What they saw was farmland under cultivation interspersed with cane stubble and bounded on the south by a wooded area," described resident F. M. Stevenson. They were impressed by the size of the tract, nearly 600 acres, the largest of the five Texas projects, and with its accessibility to the Dallas-Fort Worth pike (the Bankhead Highway, and modern Division St.) from Bowen Stop Road.
Project Approved
Project Approved On December 2, 1933, Secretary of the Interior and Public Works Administrator Harold L. Ickes organized the Federal Subsistence Homestead Corporation and approved several projects, including the one near Arlington, Texas. (Editor's note: A few black and white photos of DWG in the 1930s, from the Library of Congress, are shown in this article.) Carl C. Taylor and Francis J. Clair met with the committee again on December 12 to announce official approval of the project and to form Dalworthington Gardens, Incorporated. Taylor was designated the government representative, and committee members appointed were Colonel William Easterwood and Hiram Williamson of Dallas, Fort Worth attorney Walter B. Scott and E. E. Davis of Arlington, dean of North Texas Agricultural College. Other members of the corporation included Farm and Ranch editor Frank Briggs.
Antley adds, "It was one of Briggs' associates, T. C. Richardson, who suggested that the name of the project be an admixture of the three nearby cities: Dallas, Fort Worth, and Arlington. The Dalworthington Gardens charter was approved, and in early 1934, the federal government allotted $250,000 for the land purchase. The land was divided into seventy-nine sites that varied in size from three to thirty-two acres. Forty-three acres was reserved for a community house and park. By summer, government workers removed existing buildings and cleared the land. F. A. Mote, a Dallas contractor was awarded the construction contract and by October, 24 homes were under construction.
Prospective buyers in Fort Worth and Dallas were carefully screened. Applicants could not earn monthly salaries over $200, though a prime consideration was that ten percent of their income should cover the monthly mortgage payments. Credit rating and backgrounds were investigated. A letter from Dalworthington Gardens Project Manager I. T. Orr offered applicants "fourand five-room houses costing the homesteader approximately $3,000. They must be paid for over a period of twenty years, ranging from $18 to $25 per month," and he adds, "This being a model colony, none but earnest people of good reputation will be accepted. Only families with a real desire to better their condition by making a part of their living during unemployed hours will be considered." The houses were erected in phases as in manufactured housing. "One crew laid the foundation, one built the sidings and walls, one laid the pine floors, one installed the plumbing, and another put on the roof. By May, 1935, only five months behind schedule, about 85 percent of the construction work on Dalworthington Gardens was completed," reported Antley.
During this period the subsistence homestead program - plagued by bureaucratic problems at the national level - was transferred by Executive Order to the Resettlement Administration. This saved the program when the Supreme Court struck down the National Industrial Recovery Act on "Black Monday," May 27, 1935.
When the Resettlement Administration assumed responsibility, the screening process grew from a one-page application to a nine-page form, questionnaires to applicants' employers and landlords, and five personal references. Antley explains that the purpose was "to obtain information concerning the homesteader's work habits, his attitude toward his work obligations, his honesty, his sobriety, and his willingness to meet his financial obligations on time." It often took months to process the applications, while prospective residents anxiously awaited the official form letter of approval or disapproval.
Hardships Faced
The first settlers in the Gardens were faced with several hardships - no fences, no garages or driveways, no paved roads. Fuel for heating and cooking was wood or coal until butane gas was furnished later. Water was tainted by pipe formerly used in an oil field; forcing residents to tote water from a nearby spring until the problem was corrected. (A local contractor was indicted in 1936 for conspiring to defraud the government through the sale of $4,442 worth of oil field pipe - unsuitable for carrying drinking water.)
Among the first settlers was Hubert A. Tull, who moved into his home in June of 1935. Baylor student Marcie Koch reports that he had a cow, a calf, 25 to 30 chickens and "scuffled" along to success. Tull recalls others not so lucky, "About 52 families moved into the community the same month. By October of that year, only 26 were left." "Many city folks did not know about country life," Koch's report continues. Claims Tull, "They thought that all they would need to do was throw a few seeds out and they would have a garden, get a few chickens and they'd have eggs the next week."
Raising livestock was especially hampered by the delay in fence construction. Antley states, "It was not unusual for the animals to roam about the project ruining other people's gardens and disrupting their normal activities. A common sight around the colony was a group of disgruntled residents herding the animals back to their apologetic owners." Some residents on Eleanor Drive became so disenchanted with government delays that they had the name of their street changed to Park Drive.
Pressures from Congress regarding ballooning costs of the subsistence communities and management concerns of the Resettlement Administration led Roosevelt to approve a restructuring plan in 1936 which turned homestead projects over to local homestead associations. Remaining under federal supervision, the associations would hold title to the land, select settlers, issue contracts to homesteaders, collect payments, maintain the property and pay tax and insurance expenses.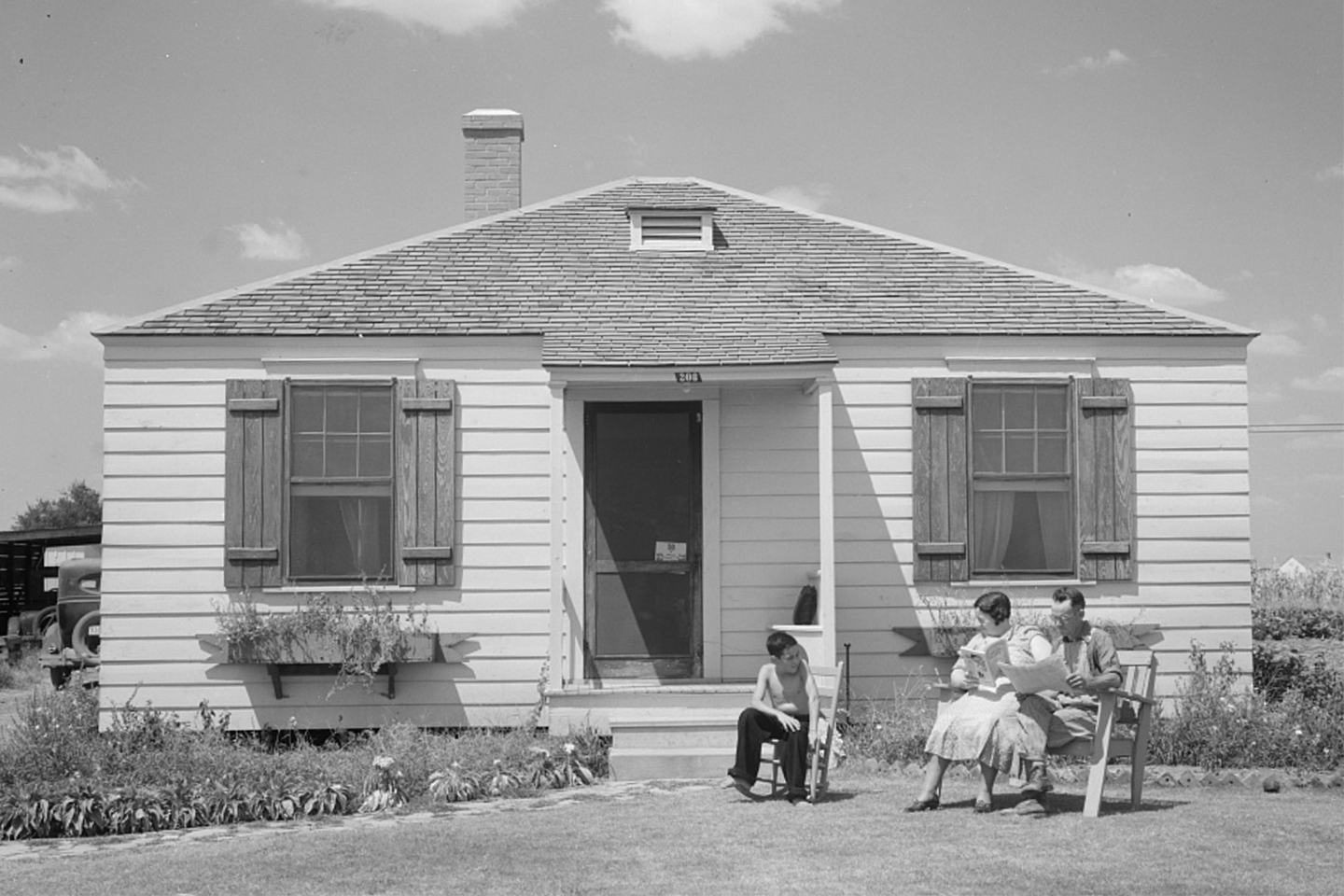 An early Dalworthington Gardens family and home
Management Transferred
On June I, 1936, the Dalworthington Gardens Homestead Association signed a management contract and deed of trust note - promising to pay the Resettlement Administration $143,000 over a 40-year period, plus three percent annual interest (about 44 percent of the actual cost of the project). Each homestead was represented in the Association by one voting member, and a local six-member board was selected to examine applications and address project concerns. Homesteaders were offered 40-year purchase contracts called "Tenure A" agreements; "Tenure B" agreements were issued to new settlers for a one-year probationary period. Monthly payments were recorded in a Memorandum Homestead Ledger from June I, 1936, until 1949 when the federal loans were transferred to local savings and loan institutions by individual owners. The ledger remains among records at the Dalworthington Gardens City Hall today.
Antley outlines typical monthly mortgage payments of $15 to $18 including principal, interest, insurance and taxes, plus a $2.50 management fee paid to the project manager. Water bills were about $2 for a maximum of 10,000 gallons. In August of 1936, Guy Estill, who resided on Sunset Lane, was appointed project manager by the association. Besides collecting payments and water billings, he supervised repair of houses and acted as liaison between residents and the Resettlement Administration. He was credited with marked improvement in management of the community.
In early 1937, only nine of the original 79 homesteads were vacant, those awaiting repair or contract approvals. The community house - located where the present City Hall stands - was the hub of activity. "By mid -1937, it appeared that everything in Dalworthington Gardens was operating smoothly and that most residents were satisfied," explains Antley. Nationally, however, the Bankhead-Jones Farm Tenant Act was passed which ended further homestead projects. Dalworthington Gardens was one of fifty projects placed under the authority of the newly established Farm Security Administration, though little change was felt at the local level. That same year, Texas Industries, a local cooperative was formed. Members met at the community house to make furniture, ladders and butter churns. A school bus service was provided toward the end of the year.
On February 24, 1942, Roosevelt transferred all New Deal housing agencies to the Federal Public Housing Authority in the National Housing Agency. Dalworthington Gardens continued as a homestead project under this authority until 1949 when a majority of its residents voted to petition for incorporation as a town.
As Herbert Antley summarizes the dream come true for Dalworthington Gardens in his masters' thesis, he comments that "many of the original homes still stand - though most have structural modifications. The community house is gone, a victim of age and progress, while a new City Hall stands in its place. New, modern and expensive homes are interspersed with neat, well kept little homesteads. There is an immediate realization that this is some place special, a mixture of the past and the present."
Editor's notes: In 2016, Dalworthington Gardens celebrated its 80th year. The celebration was spearheaded by Velma Bogart, City Historian, long-time resident, and former councilwoman. You can find a 13-minute video on DWG on You Tube; it is narrated by long-time residents.